What are Instant Boosts?
Instant Boosts are temporary stat increases or buffs that apply as soon as you claim, purchase, or create them! This is different from typical boosts which you need to manually activate from your inventory.
Will My Instant Boosts Stack?
Instant Boosts will stack under certain circumstances. Boosts that come from different sources will always stack.
There are currently 4 sources:
Recipes - Accessed through your Inventory, or through the event panel during special events
Event Rewards - Certain progressive reward tiers that you claim will contain instant boosts. These can also appear in leaderboard rewards as well!
Gifted in a Kingdom Message
Purchased from the Store - Store boosts also have additional ways to stack! (More information below)
This means you could potentially craft a 1 hour 10% vs Dead boost from an inventory recipe, purchase the same boost from a pack, earn one from your Progressive or Milestone event rewards, and then claim one from your messages to have a total of 40% vs Dead boost.
If you instead tried to claim two 1 hour 10% vs Dead boosts from the same source, such as crafting the same inventory Recipe twice, it will overwrite the original boost so you still have 10% in total. This will also overwrite the timer to match the latest boost's duration, even if it is shorter than the original. You should see a pop-up warning you about this before you choose to craft the 2nd boost.
Instant Boosts in the Store
Instant Boosts sold in the store may have an additional prefix on the pack name, like "Dragonglass" or "Flaming Sword", and the boosts will have different icons.
These differences indicate that those boosts will stack, even if it has the same effect. This is the only exception to the same source rule.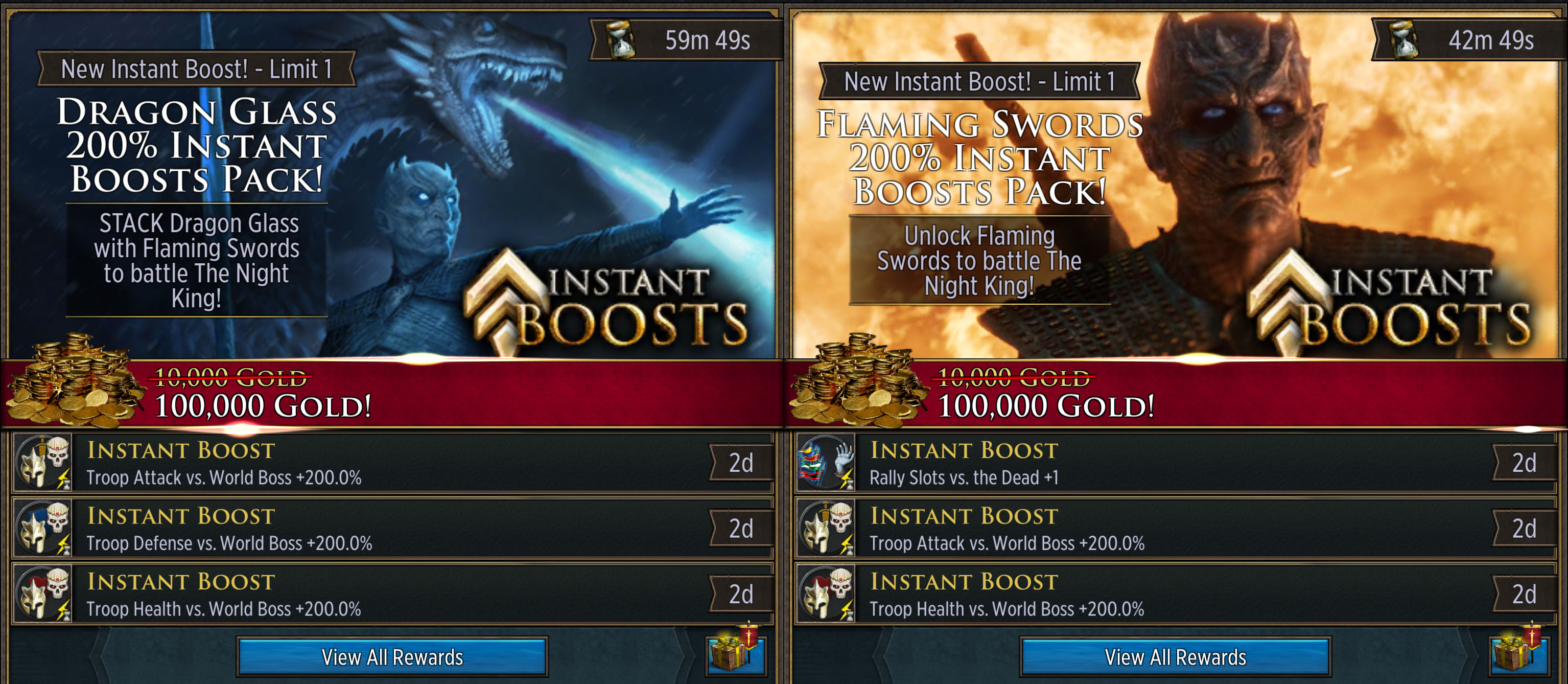 Where can I see my active boosts?
Instant Boosts that are currently active will appear in your Boost Center. This can be accessed by tapping the arrow icon in the lower right corner of your city view
From your Boost Center, you can see exactly what boosts you have active, and how long it has left.