What are Peace Shields?
Peace Shields are used to protect your Keep from enemy scouts and attacks. Peace Shields come in a variety of durations ranging from 2 hours to 30 days. They can be purchased in-game using Gold, included in packs purchased from the store, or received as rewards from Events or Quests.
How to Activate a Peace Shield?
You can quickly deploy a Peace Shield by going to your Boost Center (Button in the lower right of the screen when viewing your Keep.)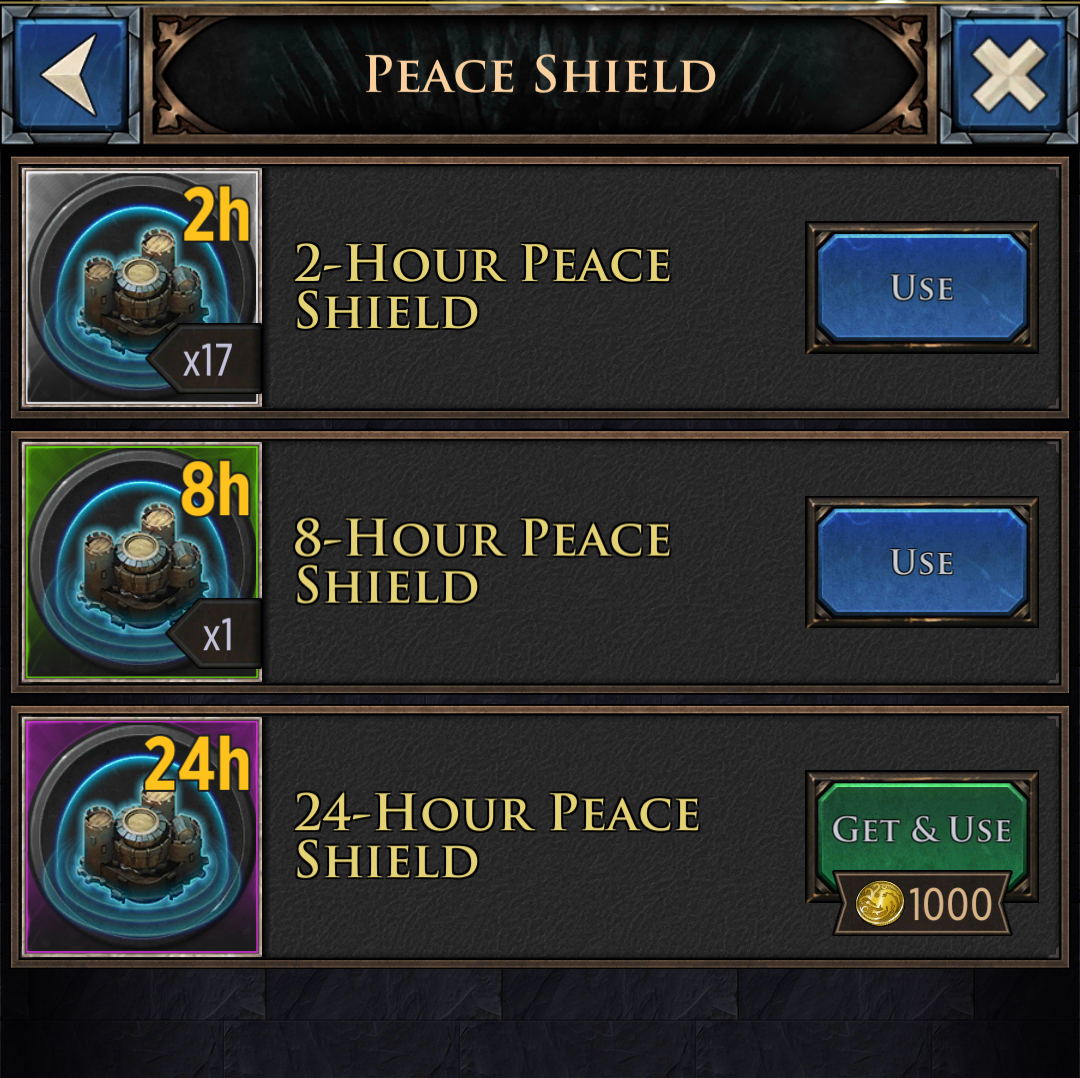 There are actions that will prevent Peace Shields from being activated and will cause Peace Shields to drop before their duration has been reached.
You can not activate a Peace Shield if:
A hostile March is currently in progress.

A hostile March would be any action taken against another player including Scouting or Attacking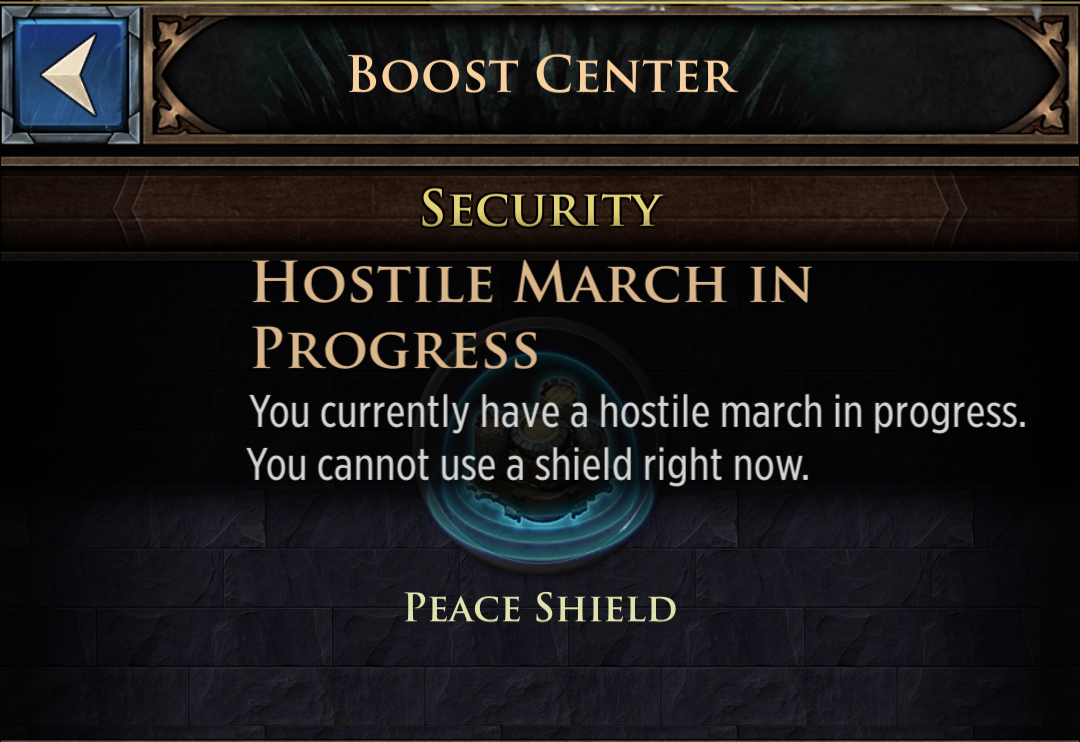 You have Troops currently participating in a Rally
Please note that if your Troops are currently Returning Home from a hostile March or Rally this will also prevent you from activating a Peace Shield
A Peace Shield will drop before its duration has been reached when:
Taking a hostile action against a player

A hostile action would be any action taken against another player including Scouting or Attacking

Participating in a Rally
Note: Performing these actions will generally cause a prompt to appear asking you to confirm the action and explaining that this action will cause your Peace Shield to expire.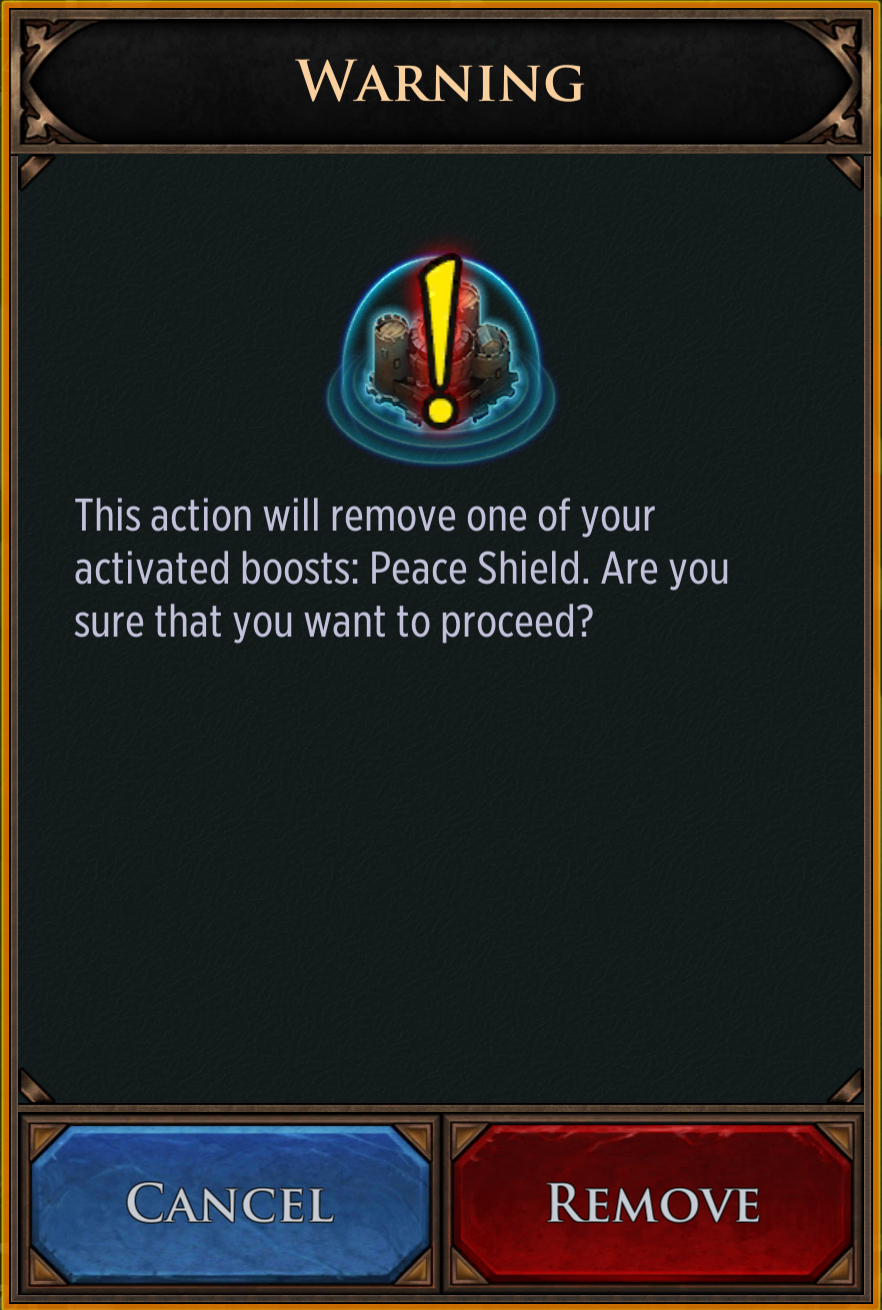 Hunting Creatures, Gathering Resources, and Reinforcing other players do not count as hostile actions and will not cause your Peace Shield to drop before its duration has been reached.
Tips:
The remaining duration of your Peace Shield is displayed in the lower right-hand corner of your screen. Tapping on that icon will bring you to the Boost Center screen. This screen will show any current Boosts active as well as any Peace Shields. As an alternative to activating a Peace Shield in the My Items tab of your inventory, you may do so by tapping on the Peace Shield icon in this menu and choosing the desired Peace Shield.
An activated Peace Shield will remove any other active Peace Shield and replace its duration with the new one selected. Their durations will not combine or overlap.
If you activate a Peace Shield and receive an "Out of Sync" error please close Game of Thrones: Conquest completely and restart the game. This will allow the game to load completely and resolve any errors that may be interfering with activating your Peace Shield. Once the game has fully loaded attempt to activate your Peace Shield again.

Additionally, if you have successfully activated a Peace Shield but the animation does not appear on the Battle Map please close and restart Game of Thrones: Conquest as detailed above.

To ensure your Peace Shield is activated please confirm that the Boost Center icon is displaying the correct remaining duration.