Welcome to the Advanced Crafting Guide for Game of Thrones: Conquest!
Equipment can provide impressive bonuses for a wide array of stats and skills both in and out of combat. This guide will give you some tips on how to begin crafting more powerful Equipment to aid you in your conquest of Westeros!
Materials
The Materials screen will show all of the crafting items you currently have on-hand. When you start the game, most items you acquire will be of Poor quality, as indicated by a gray background around the item's icon. Higher-quality items will have a different colored background surrounding its icon. You can tap on the icon to get more information about that item.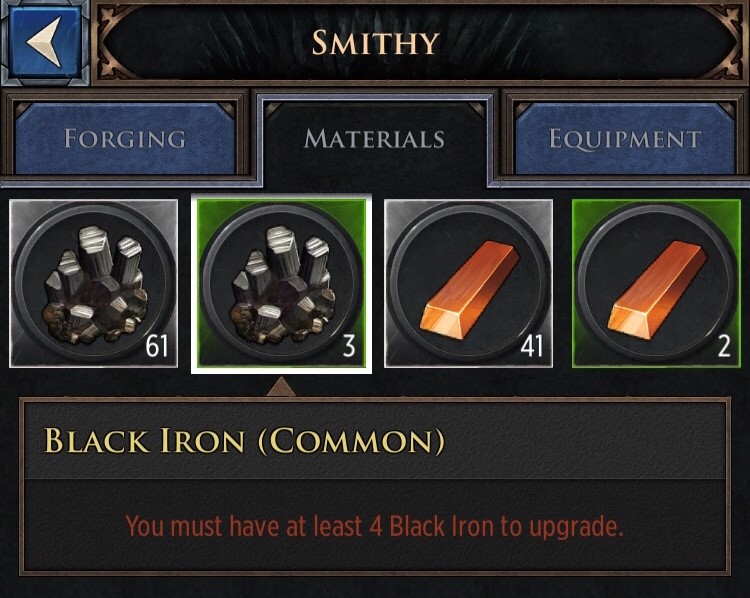 You can upgrade your materials by tapping on the icon. If you have the required number of items to perform the upgrade, then you can tap the "Upgrade" button to complete this process. Depending on the number of required items, you can craft multiple upgrades of that material piece at once.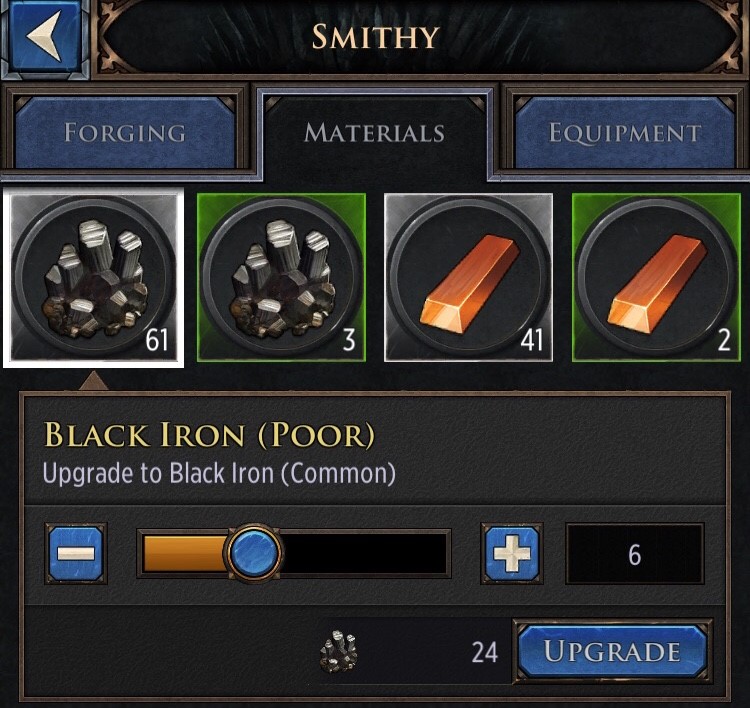 By upgrading a material item, you will increase the quality of that material. By using higher-quality materials when crafting gear and weapons, you will have a higher chance at crafting an item with better stats.
Equipment
The Equipment tab will display all of the gear and weapons you have crafted.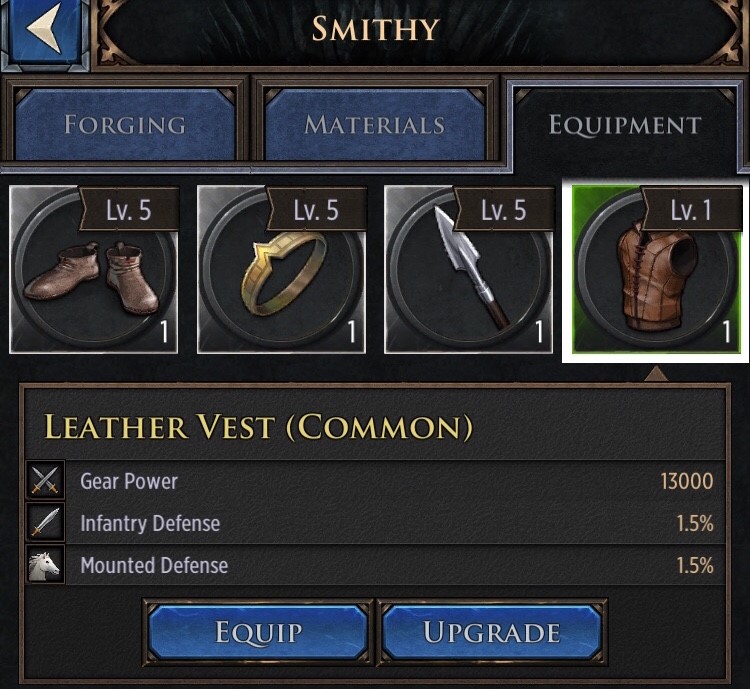 By tapping on an item, you can review:
The Gear Power provided by the item
The stats increased by that item, depending on its quality
Upon tapping on a piece of equipment, you can choose to Equip it or Upgrade it.
Crafting an Item
To craft a weapon or piece of gear, select an item that you have all the required materials for. It is best to filter your items by "Craftable Recipes" as this will display only the items that you can currently craft. Once you have selected the item that you wish to craft, tap the "Forge" button.
You will be taken to the "Forge Equipment" screen, where you can craft the item in question. Required material items taken from your "Materials" tab will display here, along with the required amount of steel needed to forge your item.
If you need more steel, tap on the "+" icon next to your steel balance. You will be taken to the "Resources" screen, where you can either open crates of steel from your inventory or purchase crates of steel using Gold.
Each piece of craftable gear requires a certain number of materials. For example, a level 1 Copper Band requires 10 Copper Bars and 10 pieces of Black Iron.
Note the Odds of Rarity at the bottom of the UI, as shown in the screenshot below.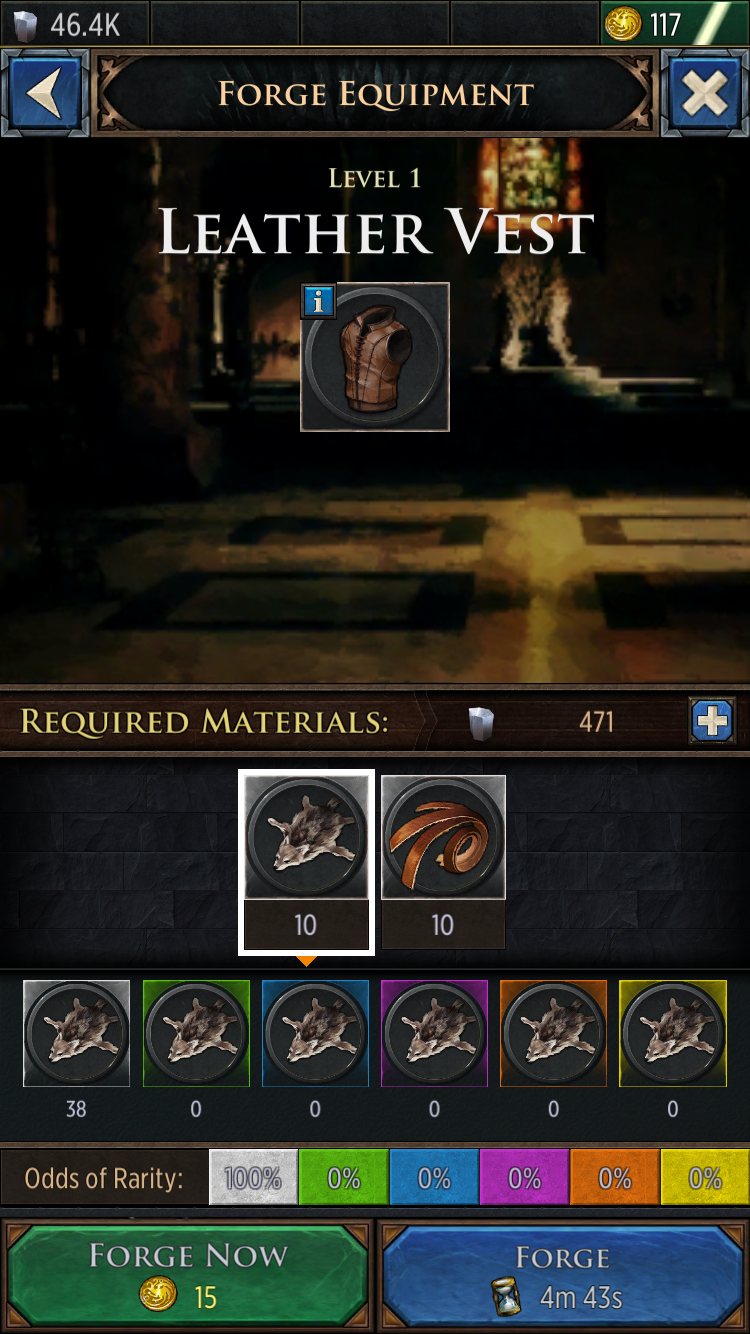 If you apply higher-quality material items when forging a piece of gear, your Odds of Rarity will increase. For example, when crafting a level 1 Leather Vest:
If your materials (10 Hide and 10 Leather Straps) are both Poor quality, then you have a 100% chance of creating a Leather Vest (Poor)
If you have 10 Hide (Poor) and 10 Leather Straps (Common) then you have a 60% chance of crafting a Leather Vest (Poor) and a 40% chance of crafting a Leather Vest (Common)
Part of the fun of crafting is experimenting! Try upgrading different pieces of material and see what your chances are of forging a higher-quality item!
When you are ready to craft, select one of the Forge options at the bottom of the UI. If you have the Gold, you can tap "Forge Now" and instantly craft your item. Alternatively, you can tap the "Forge" button on the right, and your item will craft over the specified duration.
Upgrading an Item
To upgrade a weapon or piece of gear, select that item from the "Equipment" tab, then tap the blue "Upgrade" button. You will be prompted to select from your inventory 3 items to destroy. By destroying these 3 items, you can successfully upgrade a weapon or piece of gear and increase the stat boosts provided by that item.
Note that you can only destroy items similar in quality and level to the item you are upgrading. For example, if you are attempting to upgrade a level 5 Poor-quality Spear, then you can only destroy 3 Poor-quality level 5 items from your inventory in order to complete the upgrade.
Also note, you cannot upgrade or destroy any weapons or pieces of gear that you have equipped. If you have equipped the item that you wish to upgrade or destroy, then you will need to unequip it before you can proceed. Simply tap on any item that displays a red "Equipped" banner, then tap the "Unequip" button at the bottom of this UI. Once you have unequipped the item in question, you will be able to upgrade or destroy it.
Trinkets
Trinkets are a unique type of Equipment that can provide a wide variety of Boosts and often require rare Crafting Materials. Trinkets act in the same way as other pieces of Equipment in regards to quality Tiers and Levels.
However, where Trinkets differ is in the crafting process. When crafting a higher Level piece of Equipment you will need to sacrifice any lower Level piece along with the required materials. When crafting a Trinket you will need to sacrifice a lower Level trinket of the same type along with the required materials. For example a Level 5 Silk Stole would require 10 Silk Stole Threads, 10 Leather Straps, 10 Silk and a Silk Stole Trinket.