The Night's Watch forts that run along The Wall usually remain silent. However, during special events, you may look to the north and find these Seats of Power have unlocked!
Holding the Wall
For these events, four Seats of Power associated with the Night's Watch will open along The Wall:
Eastwatch-by-the-Sea (2 Stars)
The Shadow Tower (2 Stars)
The Nightfort (3 Stars)
Castle Black (4 Stars)
Each of these Seats of Power will grant Regional Bonuses, Ownership Bonuses, and have several titles available to grant to Allegiance members.
Choose which seat your Allegiance attacks first carefully, as it may provide you Bonuses helpful in conquering the next Seat you have your eye on! Titles and buffs can vary per event, so make sure to check the event messaging to see what buffs apply!
Note: Normal Seat of Power stats may not work against Event-Limited Seats of Power, in particular Attacker vs [# Star] titles.
Normal rules still apply when abdicating or granting titles, including the 72 hour wait period before a Seat gets an Allegiance Shield (this timer is per seat, not per allegiance) and there is a 30-minute cooldown on granting or receiving titles.
Shipments
As a benefit for holding Eastwatch-by-the-Sea, The Shadow Tower, The Nightfort, or Castle Black, you will earn rewards over time called Shipments. You can also collect these if an allegiance member grants you a title from one of these 4 seats.
Your first shipment can be claimed immediately after you conquer a Seat or receive your title. That first shipment will be smaller than subsequent shipments. You can check Shipment contents when looking at the seat's info page (tap the Seat of Power, or find it on the War Room Map list.)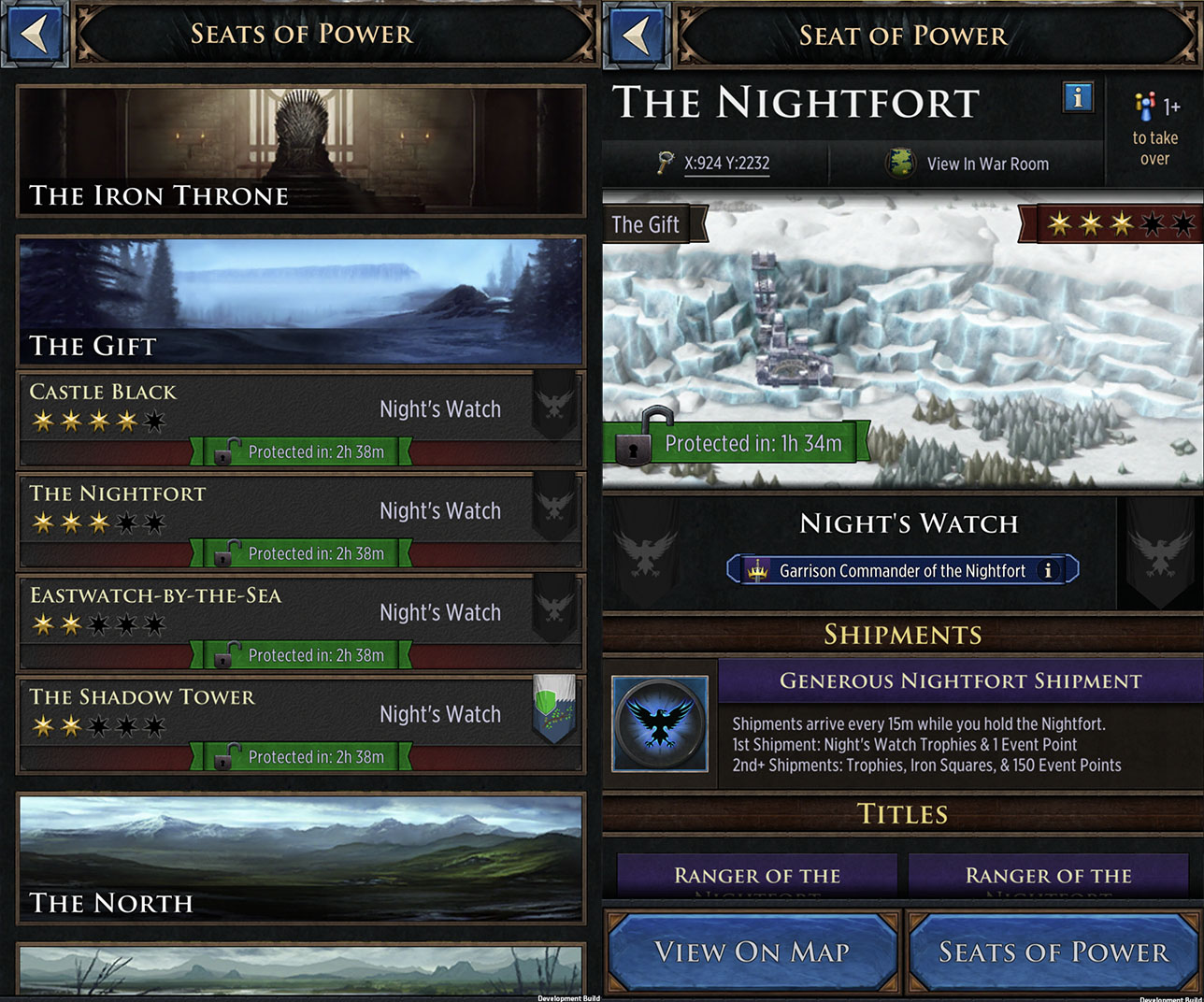 When you have a Shipment available, an icon will appear above your city's Great Hall. You can claim it by tapping the icon, or by going through the new Shipment menu on the right-hand side of your screen. From here you can also collect Port and Storehouse rewards.

Shipments will continue to arrive as long as you hold your seat or title, so be vigilant! If you lose your Seat or Title, shipments will cease, and any available shipments that were not claimed will be lost.
The content of an event Shipment can vary from purely points to things like building resources depending on the event.
Event Variations
There are several different event variations that use the Event-Limited Seats of Power along The Wall, such as Night's Watch Mutiny. Things like leaderboards, rewards, supplementary events, and even titles and bonuses can change from event to event. Let's take a look at some examples of these differences!
Holding a Seat of Power along the wall is an Allegiance focused event, so some Wall events may be Allegiance Leaderboard-only, and will not contain a personal leaderboard or progressive event.
Additionally, allegiance focused events will sometimes award Allegiance Leader Gifts (also called Liege Rewards or Liege Gifts) upon completion of the event. These go to the leaders of the Top 3 Allegiances, so they can reward any member of the Allegiance who they feel really helped out in the event!
The Allegiance Leaderboard Reward notice will be sent to your Message Center after the event concludes and will have a breakdown of the top contributors from your Allegiance. The blue gift button to the right of each name allows you to quickly send gifts based on participation. This button will turn gray once you have run out of gifts to send.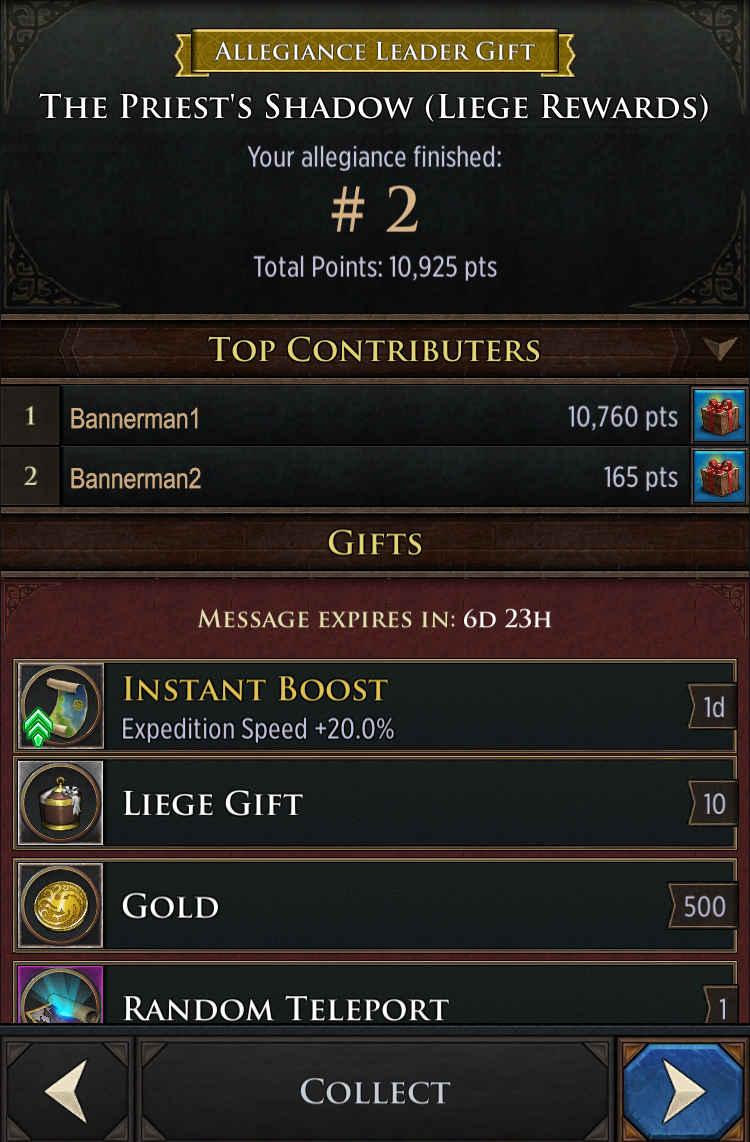 Be on the lookout for other events going on during an Event-Limited Seat of Power event. Oftentimes these will provide rewards, recipe ingredients, or boosts that can help you take other Seats of Power along the Wall!
For example, even if you are not holding a Seat of Power yourself, there may be PvE creatures like Wights, White Walkers, Wight Bears, Wight Giants, and Pale Spiders for you to hunt down and still help your Allegiance or earn instant boosts. Or there may be a Strategic Terrain Event that awards recipe ingredients to craft relevant instant boosts!
These events depend on the theme, and not all Wall events will include them, so make sure to check the description in the events panel for more info!
And now my watch has ended…
At the end of the Defend the Wall event, all 4 of the Night's Watch seats will lock again.
Anyone still holding those seats when the event ends will be removed and any bannermen will lose their associated titles from that seat. Any time you lose a Seat of Power, you will receive a report in your Message Center to explain the cause, in this case, because the event has ended. Any available Shipments that were not claimed before the event ends will be lost.
_______
"I am the sword in the darkness. I am the watcher on the walls. I am the shield that guards the realms of men." -Oath of the Night's Watch