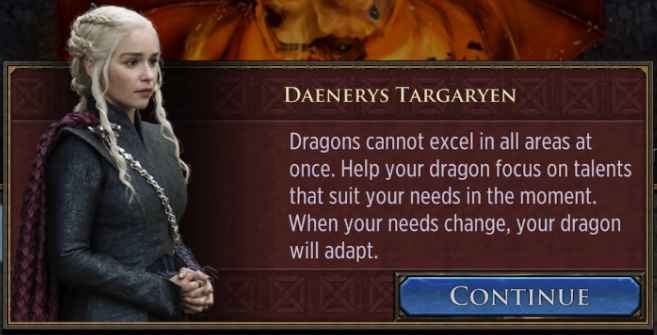 Talents
Dragon talents allow you to customize your dragon's abilities to suit your needs. You can view your dragon's Talents by tapping your Dragon Pit and selecting 'Talents' at the bottom of the screen.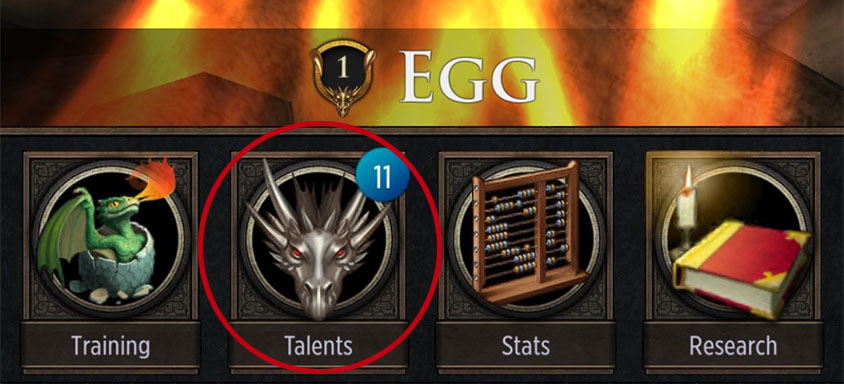 Be sure to check each category for the various talents you can acquire. Talent points spent in younger dragon categories will still benefit your dragon as they progress.
You will have the option to reset your dragon's Talents if you wish to invest them in different ones, but spend your points wisely! You will not be able to acquire every Talent there is.
Some bonuses provided from dragon talents only apply when the dragon is present with those troops. Therefore, if your dragon is out on a march, some talents will only apply to certain troops within that march. Other talents will apply to your troops or buildings regardless of whether or not your dragon is present. Make sure to read the description for each talent for more information!
The current Talent categories are Hatchling, Whelp, and Adolescent. Each category focuses on the strength of your dragon at that stage.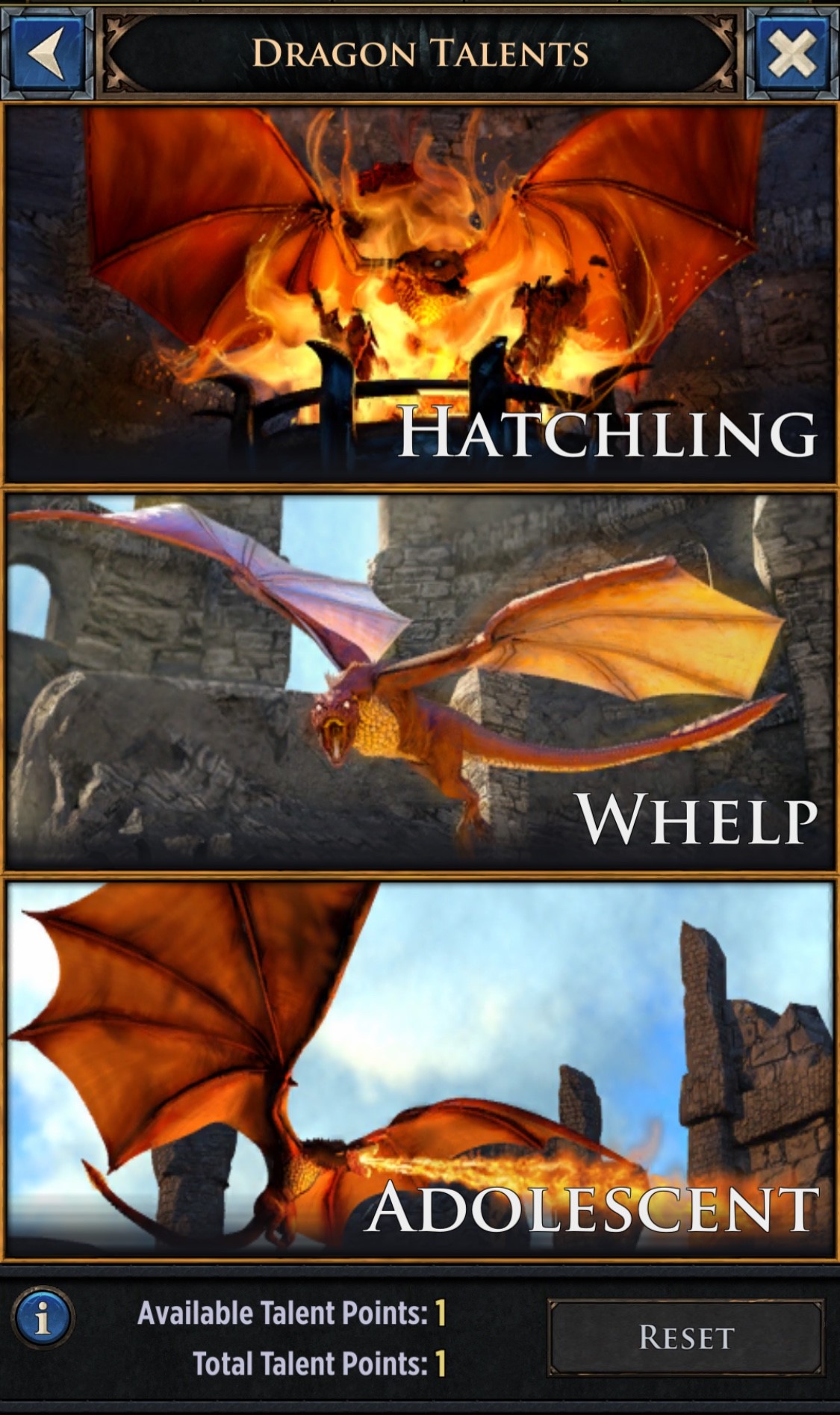 Hatchling
Hatchling talents are initially focused on combat vs creatures found on your map. As you progress through this tree, your dragon will become more effective when defending your keep, boosting the healing of your wounded troops, and bolstering your other troops in combat.
Whelp
Adding talent points to the whelp category continues to bolster your troops and keep defense. Over time you can improve your dragon's resource gathering speed and overall resource production, as well as the efficiency of your other buildings.
Adolescent
Early on in this tree, you'll continue to boost your attacks against creatures, but shortly after your dragon's own abilities will be open to improvement. From health and regeneration to the Repel Strike ability (more on that in our Dragon Combat guide).
Dragon Stats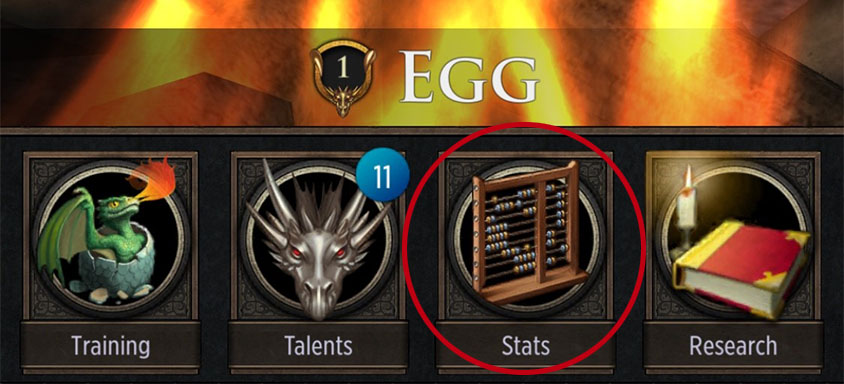 Overall -

General stats such as health, tenacity, and feed XP bonus from leveling your Dragon Pit (or other sources).

Tap on each stat for more information.

Research -

Bonuses provided through research in different Dragon categories in your Maester's tower. See the Research section for more info.

Talents -

Bonuses provided through talent points distributed at different phases of your dragon's development.

Equipment -

Bonuses provided through equipment worn by your avatar. See your Equipment panel for more information on which pieces grant bonuses to your dragon.

Research -

This section takes you to your Maester's tower, where you can research methods of improving your dragon. Your Maester's will depend heavily on Dragon Lore to further your dragon research.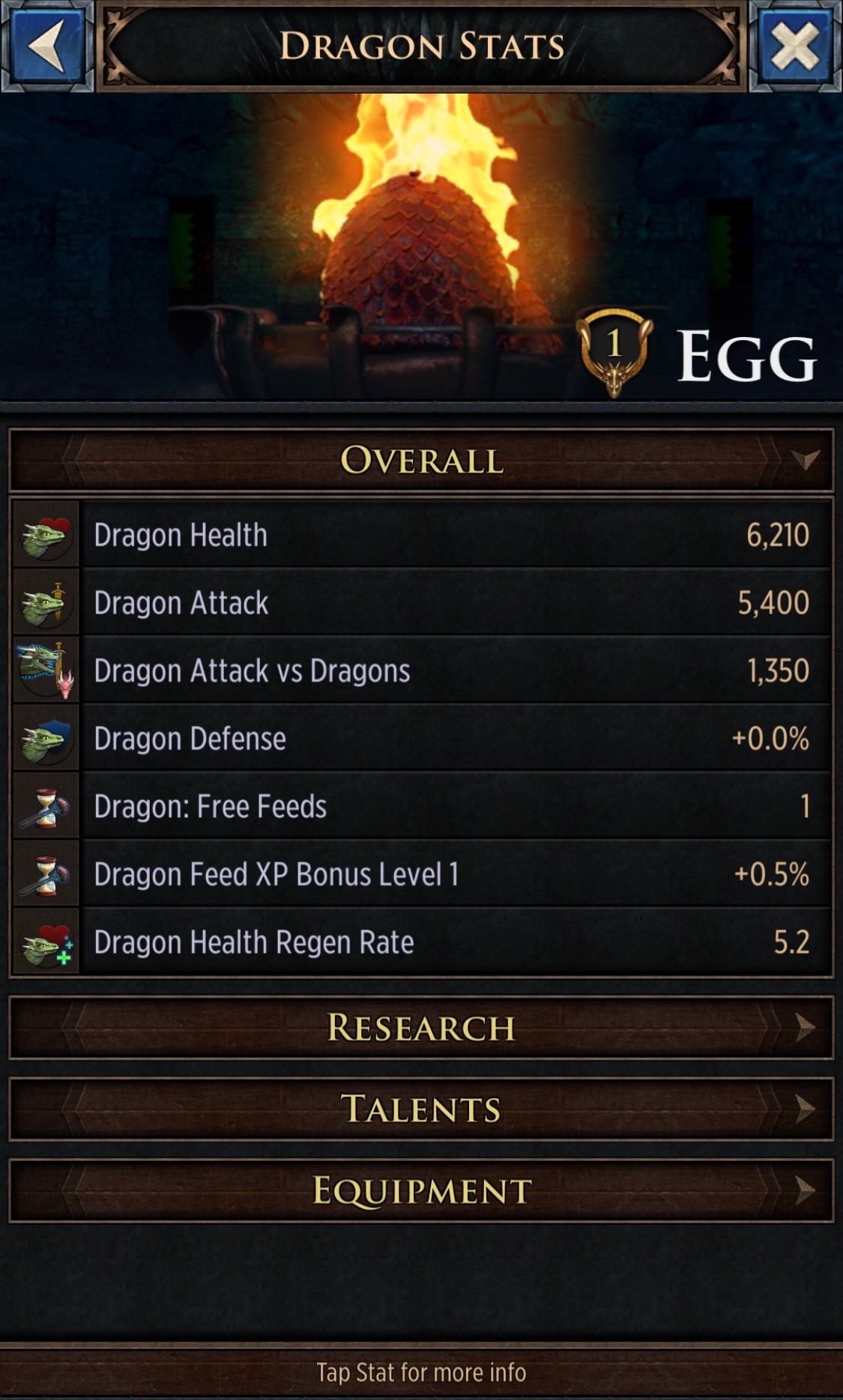 Research
You can access Dragon Research by going to your Maester's tower and scrolling down through the different Research trees, or you can use the shortcut in your Dragon Pit menu.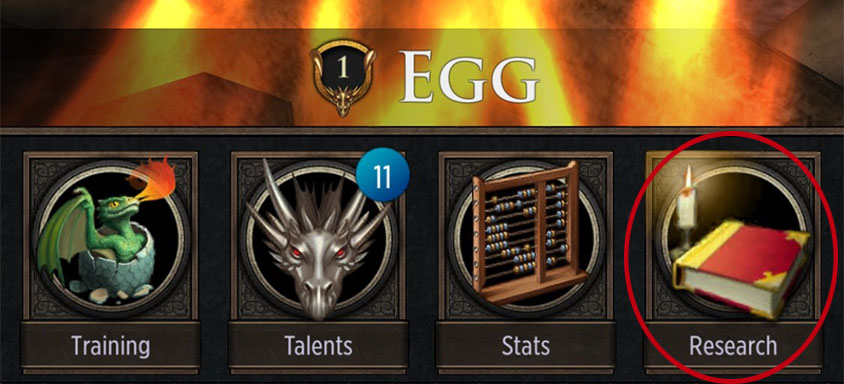 Dragon Research is organized based on the stage of your Dragon, but any research made at an earlier stage for your dragon will continue to assist it as it grows. More Research will become available in each category over time depending on things like your dragon's current stage, level, or Dragon Pit level. Continue to advance your dragon in order to further your research.