When you began your quest for the Iron Throne, you may have noticed villagers digging near the Port. Once you reach Keep level 2, these excavators will unearth an incredible discovery: a Dragon Pit containing a single intact Dragon Egg.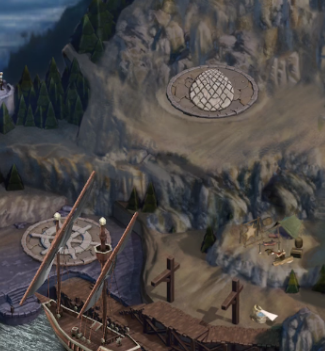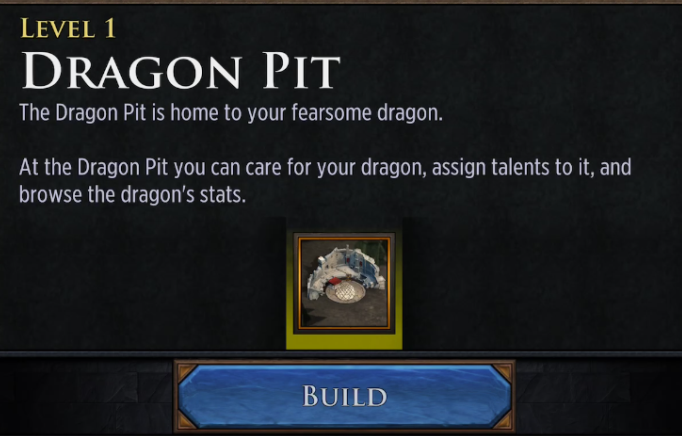 Your Dragon Pit can be constructed and upgraded like other buildings. This is where you will be hatching and raising your new Dragon Egg.
Once you've constructed your Dragon Pit, tap the dragon icon to get started. Daenerys will appear periodically to guide you in the basics of caring for your new Dragon Egg.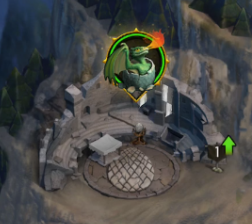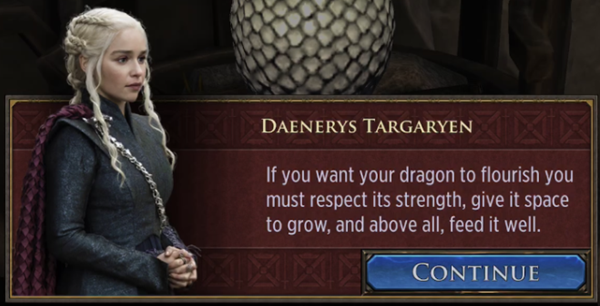 Feeding
You will need to Feed your Dragon in order for it to grow. When it is still an Egg, you will need to feed Wood to the Fires that warm it. After Hatching, it will need to consume meat in the form of Livestock.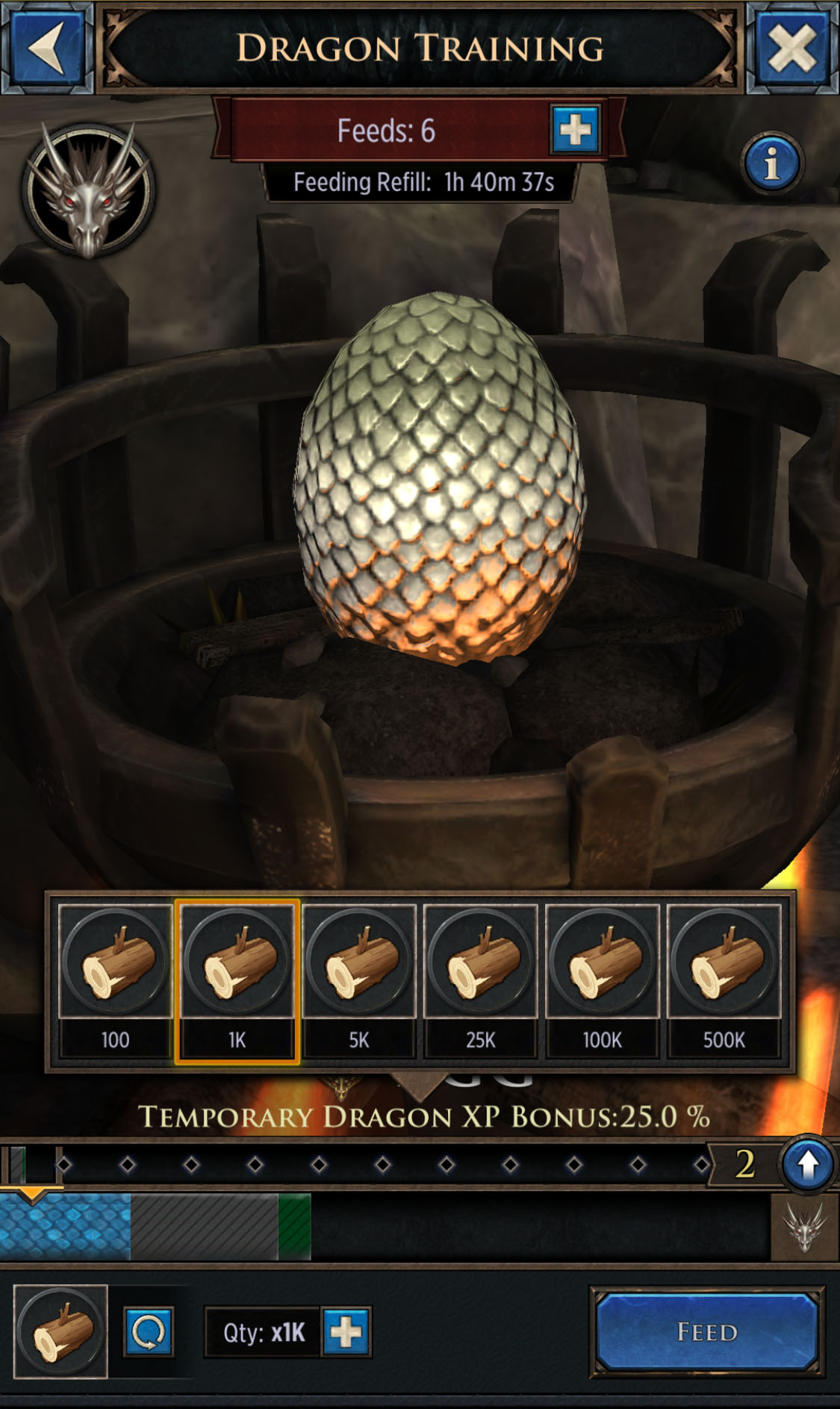 You will get one Free Feeding each day. This does not consume any of your resources and will provide a bonus to subsequent feedings. Check in every day and feed your dragon to keep this bonus going up! This bonus is not permanent and will reset every 10 levels.
Once you have used your Free Feeding for the day, you should have 6 remaining feedings. Since feedings are limited, it is advised to select the maximum amount of Wood or Livestock you can afford to make the most of each feeding.
When your Dragon is still an Egg, tapping the Feed icon in the lower left of the screen will bring up the different amounts of Wood you can choose to feed the flame with at once. The more Wood you toss on the fire, the faster it will grow!

As you can see, 5,000 wood will add a small amount of XP to the egg but 500,000 will add a generous amount. Once you've chosen your amounts, tap the Feed button again.
Tapping the blue plus sign next to the amount will bring you to your inventory so you can unbox more Wood if you need it.
As you feed, you'll notice the blue XP bar, it will fill and you will periodically receive yellow "pips" in increments. These correspond to Dragon Talent Points which we'll learn more about in our Talents, Stats and Research Guide.

Once you have used all of your Feedings for the day, you will need to wait for the timer to run out before you receive the next day's 7 Feedings.
You can get more than 7 Feedings each day by using Bonus Feedings. These Bonus Feedings can be purchased in packs or earned as event rewards. If you have earned bonus feedings, you can click the blue plus sign to use it.
Note: Each day, your free feeding will be used first, followed by your normal daily feedings. After that, if you have bonus feedings available, you can choose to use them. Bonus feedings do not expire, they carry over until they are used. There is no cap on how many bonus feedings you can have waiting to be used.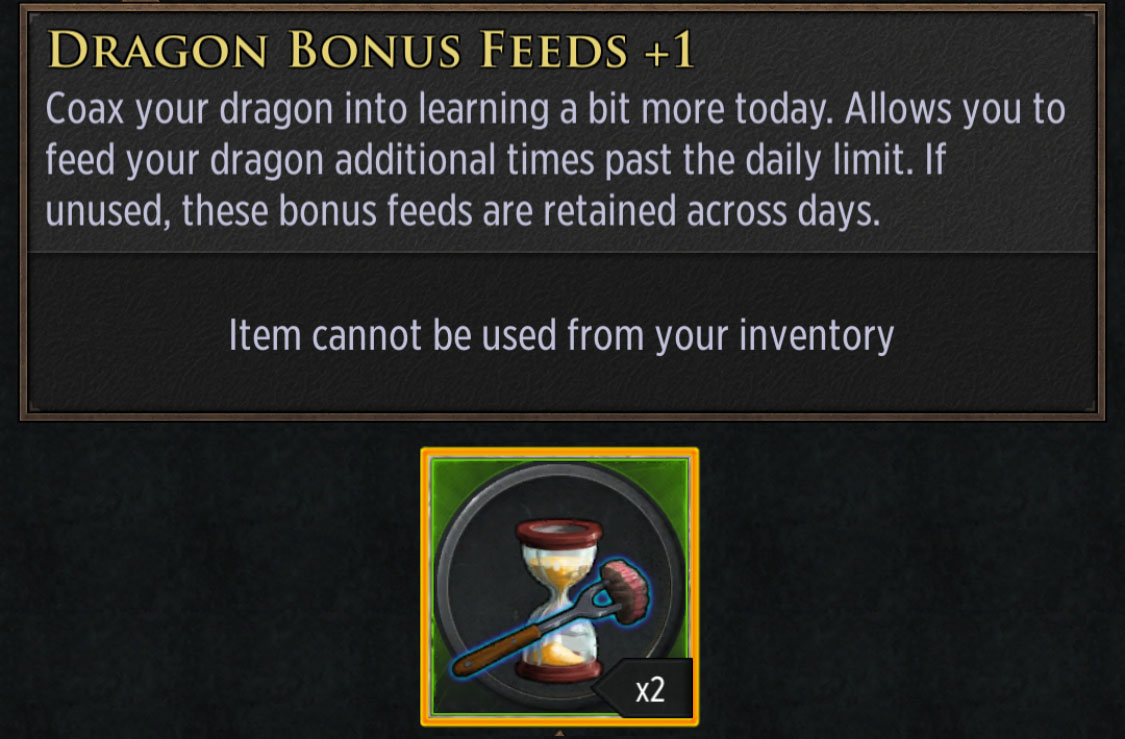 Once your Egg's XP bar is full, it is time to upgrade it. Upgrades can require specific Items, Resources, Keep/Building Levels, or Research. Your first upgrade will require your Maesters to embark on a new research tree, Dragon Nurturing. We will explore Dragon Research in greater detail in our Dragon Talents, Stats, and Research guide.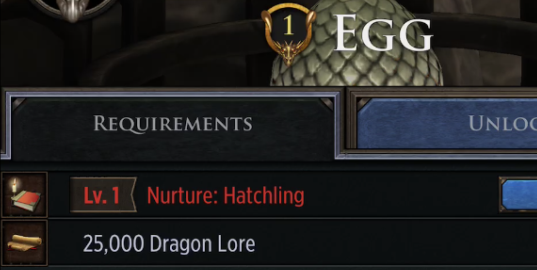 Each Dragon upgrade will also require time. During this time, your dragon will be unavailable and, if you research combat down the road, it will be unable to defend your Keep. Speedup items or Gold can be used to cut down the amount of time it takes to upgrade your Dragon.
Note: New dragon abilities must be researched in the Maester's Tower. Many of these researches have a dragon level requirement. Make sure, that as your dragon levels up, you plan out your research strategy.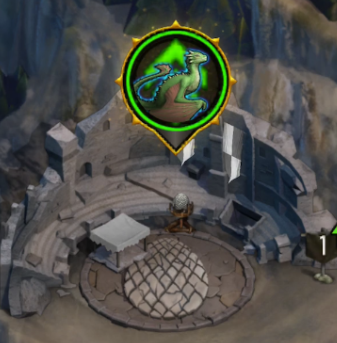 Once your first Dragon Egg upgrade is complete, tap the dragon pit to be taken to your egg screen. Tap the collect button and welcome your new hatchling!

You will see that the color of your egg/dragon reflects the colors of your keep. If you change your banner color, your dragon may also change.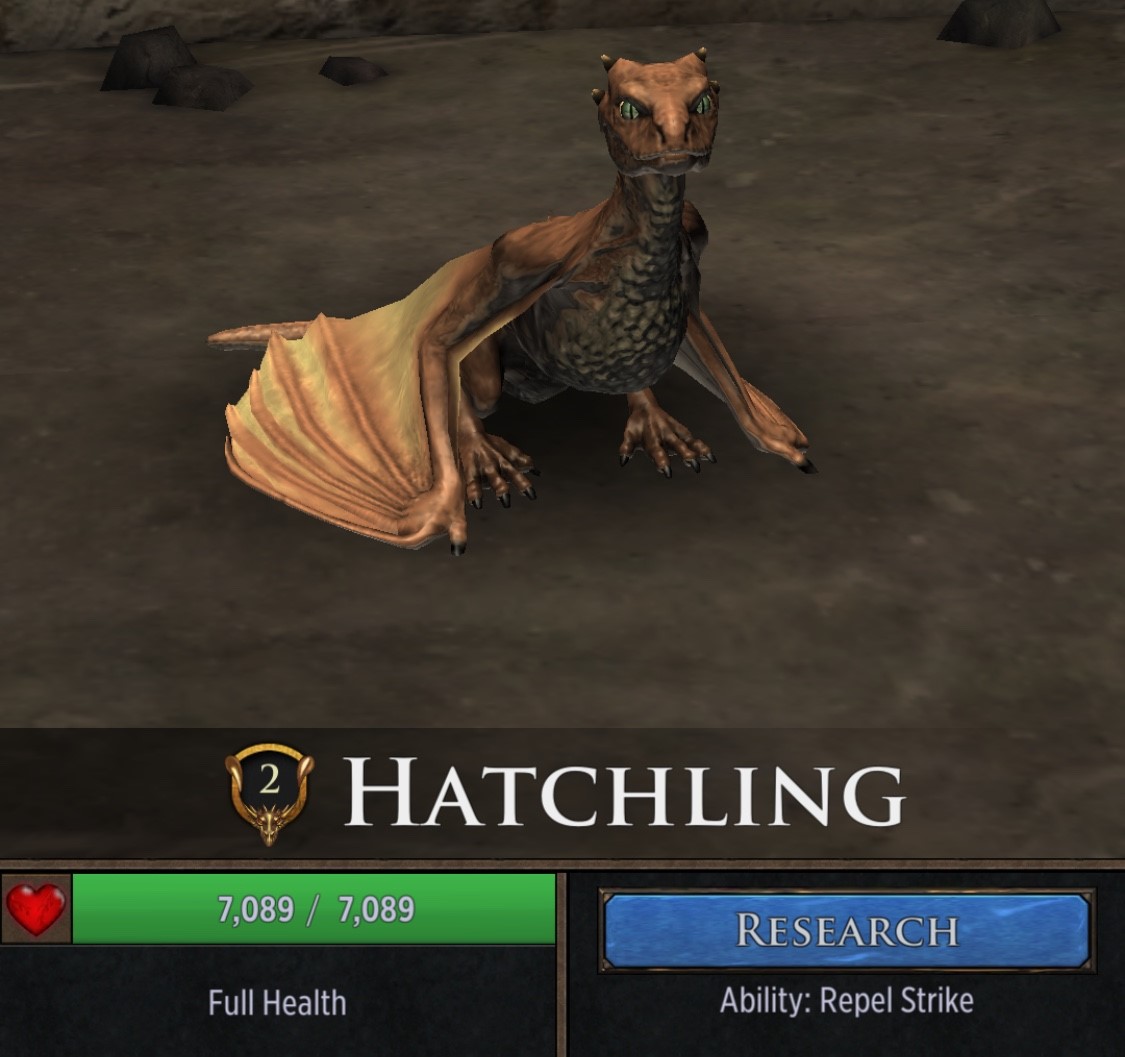 Now that your hatchling is here, it will want a proper meal. The grade of livestock you use to feed your dragon directly affects the amount of experience gained per feeding.
For the best results, maximize your feedings by choosing your best livestock and use all of your available feedings per day. Better livestock is denoted in the same way Crafting Materials display rarity. Livestock with a gray background is the most common and will provide the least amount of XP. Livestock with an orange background is the rarest and will provide the most XP.
Once a dragon has been fed enough, you can advance its level by upgrading it again.
Keep feeding your dragon and harness its power for an advantage on your quest for the Iron Throne!
Related Articles
Dragon Talents, Stats, and Research