Marches
Anytime you tap the Attack button and send your Troops outside of your keep, whether to gather resources or go into battle, you are creating a March. Marches are represented by Pawns on the Battle Map. You can customize which Pawn you would like to represent your March by tapping the Select Pawn button in the upper left-hand corner of your March screen.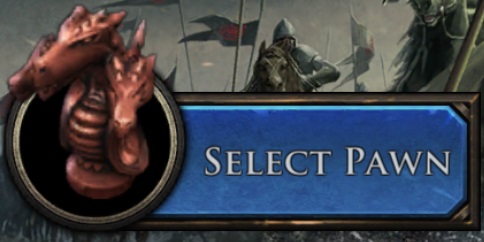 The time remaining before a March reaches its destination is displayed in the Marches queue panel on the right hand of the screen. Once a March leaves your keep, you have the option of using a March Recall Item to return your troops before they reach their target. You can quickly use one of these items by selecting it through the Marches queue panel, and if you do not have any March Recalls in your inventory, you will be prompted to use Gold instead.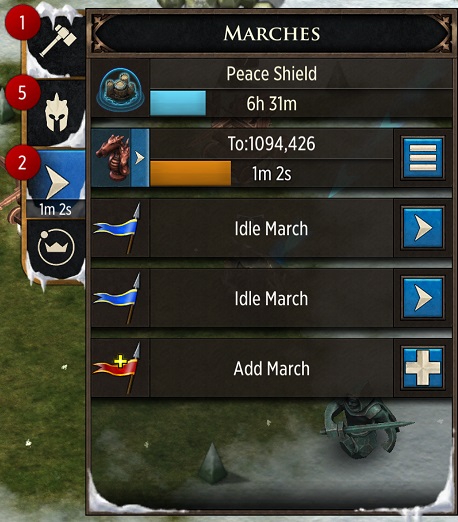 Please keep in mind when your Troops reach a certain distance from their target they will be committed to battle and may not heed your order to return.  If this is the case you will receive an error message and your March will continue as originally commanded.
Rallies
Rallies give you and your Allegiance members the opportunity to work together to attack powerful targets. When creating a Rally you will be prompted to choose a Rally prep time of 5 minutes, 10 minutes, 30 minutes or 60 minutes. The Rally prep time indicates how long your Allegiance members have to join the Rally and send their troops to your location before the Rally leaves towards its intended target. If a player joins your Rally but their Troops do not reach the Rally origination point before the Rally prep time elapses, those Troops will not participate in the Attack.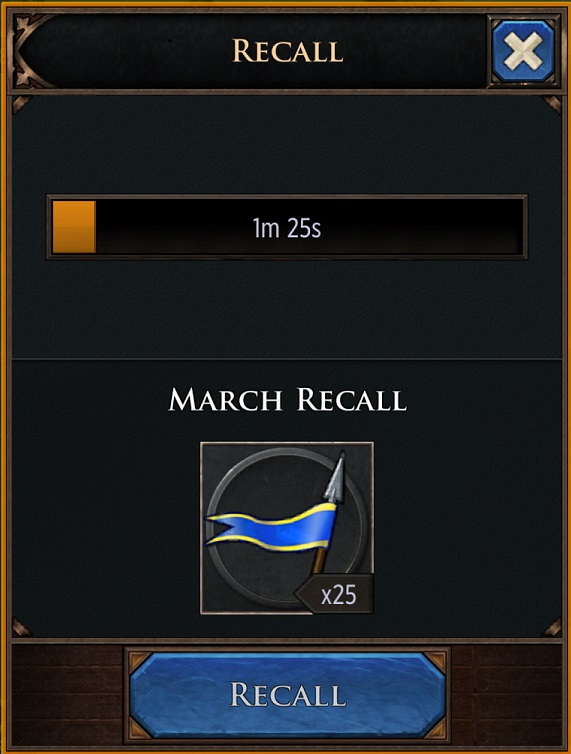 A Rally can only be canceled by the Rally Leader and only up until the point the Rally has left towards its intended target. Once the Rally prep time has elapsed the Rally will launch and the Rally Leader may attempt to recall the Rally by using Gold. Please keep in mind that recalling a Rally works in the same way as March Recall Items explained above. When your Troops are too close to the target, the battle is inevitable and you will not be able to recall them. If this is the case you will receive an error message and your Rally will continue as originally commanded.
FAQ
The error message you will receive when unsuccessfully attempting to use a March Recall Item will read "Unknown Error" it will not reference that your March Recall Item was unsuccessful.

The (within 4 seconds) language in the March Recall Item description refers to the amount of time it will take your troops to return to your Keep after the Item is used successfully. It does NOT refer to the amount of time remaining to ensure a successful March Recall.