How do I Send a Gift?
To send a gift, simply make a purchase within the Special Offers panel and all of your Allegiance members (including yourself!) will receive a corresponding gift. Every available pack within the game will automatically distribute a related box of items - even limited-time offers!
Everyone in your Allegiance will receive the same gift box depending on the pack purchased, but the items inside may vary.
If you do not wish for your Allegiance to know who sent this gift, there is an option within your Settings to have your name display as Anonymous. Make sure to tap this option before making your purchase! If you check the box afterward, your name will still be displayed as normal.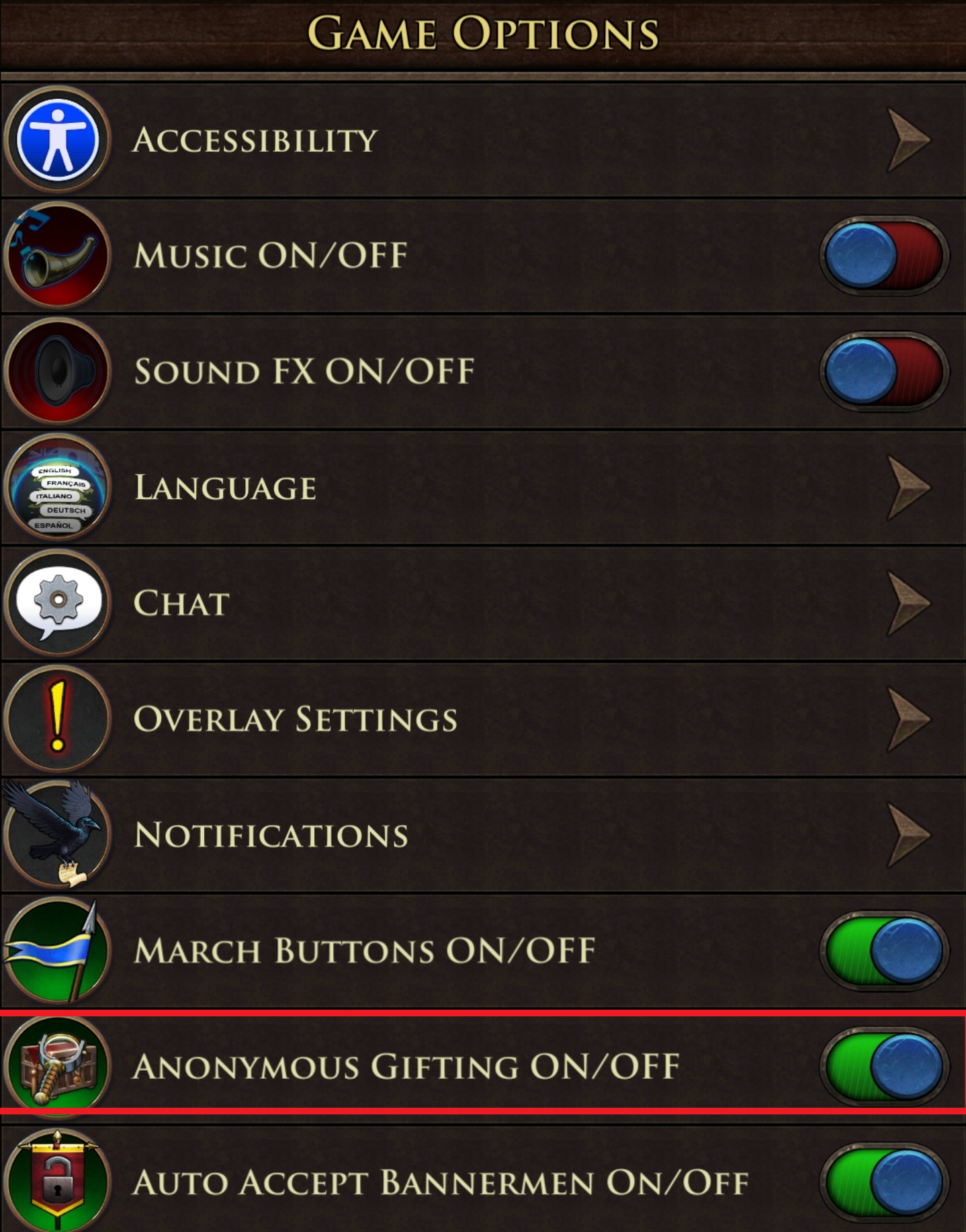 How do I Claim a Gift?
To claim a gift, you will first see a small gift notification over your Allegiance icon. You will also see a gift notification within your city scene located next to your Maester's Tower. It will display hovering over a woman with a cart, and this is where you can find the Allegiance Gifting panel.
When you tap to visit the Allegiance Gifting panel, you'll see a display of all current gifts waiting to be collected. You only have 24 hours to collect a gift once it's sent, so check back often!
Other Important Notes
If you join an Allegiance after a gift was sent, you will not be able to claim it. However, if you leave your Allegiance after a gift was sent, you can still collect it until the timer expires as normal.
When gifts expire, they show as expired for a further 24 hours (and are dull in color). Please know that our support team cannot assist with recovering unclaimed gifts.
Info buttons on gifts will tell you what contents you can expect from that box.
When multiple gifts are collected at once, all gifts are consolidated into one panel to show you the full amount of what you received.