Along with Tyrion's Quests, you will also have a series of Daily Quests.

How Does it Work?
Each Daily quest will award you an amount of Prestige to level your Avatar (tap the blue 'i' next to each quest icon to see the Prestige it awards.) You will also earn points toward progressive goals at the top of the screen.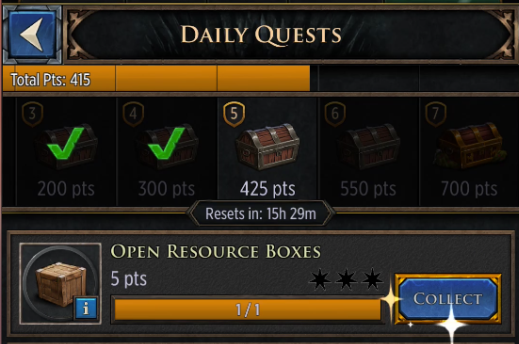 Tapping any of these progressive goal chests will display the reward for reaching that goal. Once you have enough points, you will be able to tap 'collect' to receive those rewards.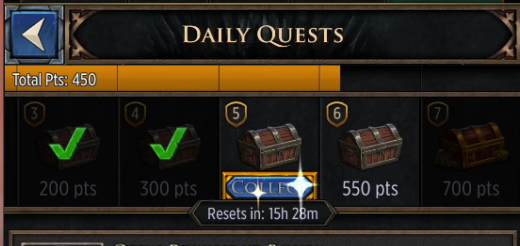 Daily Quests can change from day to day, so make sure to check back to view your goals and collect your rewards!
I can't collect my rewards
If the collect buttons are unresponsive, please restart your game while connected to a strong WiFi connection before attempting to collect them again.
If you collect your rewards but do not see your inventory totals increase, this may be a sign that your device has fallen out of sync with the game. After running through the following steps and restarting the game, the display should reflect the true totals. Keep in mind that if your game was out of sync for a few actions, the true inventory totals may be different than you'd have expected based on the pre-restart totals displayed.
Ensure that you have the latest update of your operating system and that there are no new game updates
Check if you have at least 2GBs of free storage

For Android users, make sure that the game is installed on your primary storage (not an SD card)

Close all other background apps
Reboot your device
Make sure your device is connected to a strong, secure WiFi hub as opposed to cellular data