What are Tyrion's Quests?
As you make your way in Westeros, Lord Tyrion will take an interest in growing your power. Along with Daily Quests, he will assign Quests for various tasks or upgrades and will reward you handsomely once there are completed.
How to View Tyrion's Quests?
You can view his current Quests by tapping his icon in the lower-left when viewing your city.

Tapping the blue 'i' next to each quest will let you know the reward. You may also earn a bonus chest to open after completing enough of these quests.

Tyrion will always display a recommended quest for you on your city screen. You can click directly on this text and it will take you to the task he suggests.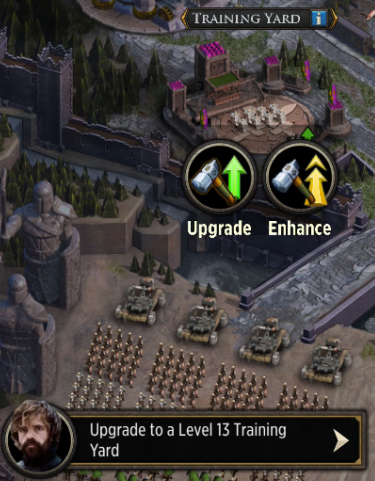 Known Issues:
If you complete a quest but are unable to use the claim button, check your connection and restart the game. If you are still unable to collect the Quest, you will need to progress your other quests until you reach the next in that sequence. After this, you will be able to collect the old quest so you will not miss out on any rewards!