The Map Finder or Creature Finder can be accessed by tapping on the Compass icon in the lower left of the world map.

Tap the icons to decide between finding Creatures, Farms, Lumber Camps, Stone Quarries, Iron Mines, or Event nodes. You can select a specific level or range of levels. As you successfully defeat higher level creatures, the highest level you can search for will also increase.
After selecting the type and level of creature you want to hunt for, tap 'Search' and the compass icon will change to reflect that it is now searching. If there are no matching creatures in the immediate area, you will need to move around the map. Once a creature is located, follow the arrows or tap the icon with the arrow to go directly to the location.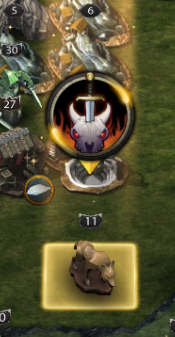 With your target now in sight, you can select your troops and march to victory!