Your Keep is home to many useful Buildings. Understanding the full function of each building allows you to better allocate your resources when needed. The higher you upgrade each building, the more functional each building becomes, the higher your power grows, and the faster you level your Avatar. To find out more information about an individual building, tap the building and hit "Info." Additionally, smaller "i" buttons can be found within each building option.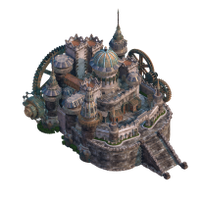 Your Keep
Your Keep is the center of your empire. The level of your keep determines your ability to construct other buildings and greatly raises your power amount. Your keep must be upgraded to a given level before any other buildings can meet that level.
Empty Plots
Just outside your city walls, you have 40 empty plots of land to build certain buildings on. You can remove anything built on these plots by tapping the 'i' next to the building and selecting 'Demolish Building'. Be warned that demolishing will not return any of the resources used to create or level the building, but will free up the land if you decide you want to build something different.
Below are the types of buildings that can be built on these plots: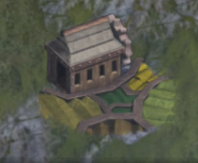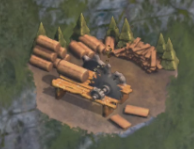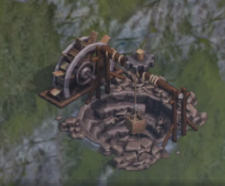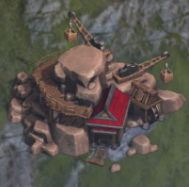 Farms, Sawmills, Stone Quarries, and Iron Mines – These buildings will generate Food, Wood, Stone, and Iron over time. When starting out, Food and Wood will be vital for training troops and upgrading buildings in your city. Hier tier troops and buildings may also require Stone and Iron.
Upgrading any of these buildings will increase the number of resources they can generate and store. You can view the total food your Farms can generate per hour by tapping the Income board just outside your city's Wall. Make sure to check back often to collect any accrued resources since they will stop generating once they reach their storage capacity (indicated by the green ring on the resource icon above the building.)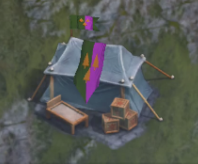 Medic Tent – Any troops injured in battle will go to your Medic Tent so long as it has the capacity. Upgrading the building will increase your wounded capacity. Once your Medic tents fill up completely, any additional Wounded troops will die. Medic Tents will automatically fill with any higher tier troops before taking in lower. It is more efficient to heal injured troops in the Medic Tent than it is to train new troops, so make sure to keep up with your available Medic Tent upgrades.
War Camp – Increases the number of troops you can train and the speed at which you can train them.
**The colors of your banner are reflected in all of your building roof/decoration colors. If you change your banner, your city will take on a new look.**
Army and Training Buildings
Barracks – Trains Infantry troops. Upgrade to increase its training capacity.
Range -Trains Ranged troops. Upgrade to increase its training capacity.
Stable – Trains Cavalry troops. Upgrade to increase its training capacity.
Workshop – Creates Siege Engines which can be used to break down the walls of opponents. Upgrade to increase its construction capacity.
Trap Maker – Creates Traps to protect your Keep from attackers. Upgrade to increase its construction capacity.
Upgrading the Training Yard building will increase your March Size. Across the moat from this building is the yard where your Army will accumulate when not out marching. Tapping on your Banner in this yard shows all of your troop details. At the top are any marches you have in progress. Below that you can view all troops broken down by type: Infantry, Ranged, Cavalry, Siege Weapons, and Traps (as well as Trap capacity). You'll also see your total troop count and an estimation of your upkeep costs per hour. Note that this estimation does not reflect currently marching troops. Tap on any troop type for further details. You even have the option to dismiss these troops from your army.
Rookery – Increases your Reinforcement Capacity
Watch Tower – Improves your Scout Reports and lets you know when enemies are approaching
Great Hall – Increases the capacity of your Rallies
Collect Rewards, Increase your Stats
Tavern – You can collect Daily and Cumulative rewards from here.
Port – Sends ships out to gather resources that you can collect whenever they return.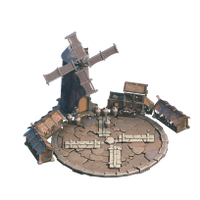 The Storehouse protects resources from enemy attackers and upkeep. Upgrading this building will increase the number of Wood, Food, Stone, and Iron you can safely store.
Your Storehouse will periodically receive shipments of building materials that you can collect as well.
Shrine – Pray to the Old Gods to receive various resources each day.
Maester Tower – The Maester's Tower is unlocked at Keep Level 4. This is where your Maesters research new technology to improve your Keep and Army. At this time there are five Disciplines of study: Military, Advanced Military, City Defense, Logistics, and Economy. Whichever tree you focus on first is up to you, but it's important to make sure your Maesters are always researching something new.
You can also use your Maester tower to send your Maesters on Expeditions to collect rewards.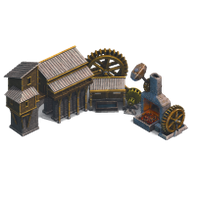 Smithy – Here you can craft new Gear and Trinkets to increase your Power and boost stats. The Smithy allows you to craft equipment for your Avatar, which gives you a wide range of boosts throughout the game. The higher level your Smithy, the faster your equipment can be crafted, and the fewer materials you'll use.
Check out our Crafting Guide for more information on how to make the most of the Smithy.
Building Enhancements
Once you reach Keep level 10, you can increase the Enhancement level of your buildings. Each building has 3 Enhancement options. You can focus on leveling one at a time, or level all three.
To Enhance your buildings, tap the building you'd like to improve, then tap the Enhance icon. Select an Enhancement option, and one of your builders will get to work! Note that if you have enough builders, you can be leveling and enhancing the same building at once.
Marble and Slate are required to Enhance your buildings. You can collect these resources by competing in Events.
FAQ
Rural buildings such as Farms do not have Enhancement available, nor do the Tavern or Port as these buildings do not level like other city buildings.
Each building has different enhancement options, so make sure to check each one in order to maximize your desired bonus.