While using the Delos Park Training Simulation, you will be managing Interactions between Hosts and park Guests. It's especially important to make your Guests happy, as a happy Guest makes for a happy park! Interactions are also a sure-fire way to level up your newer Hosts, which will make them more versatile especially when paired with challenging Guests.
What makes for a successful Interaction?
To better understand how to have the best chances at a successful Interaction, let's see what our friend Teddy is up to in Las Mudas…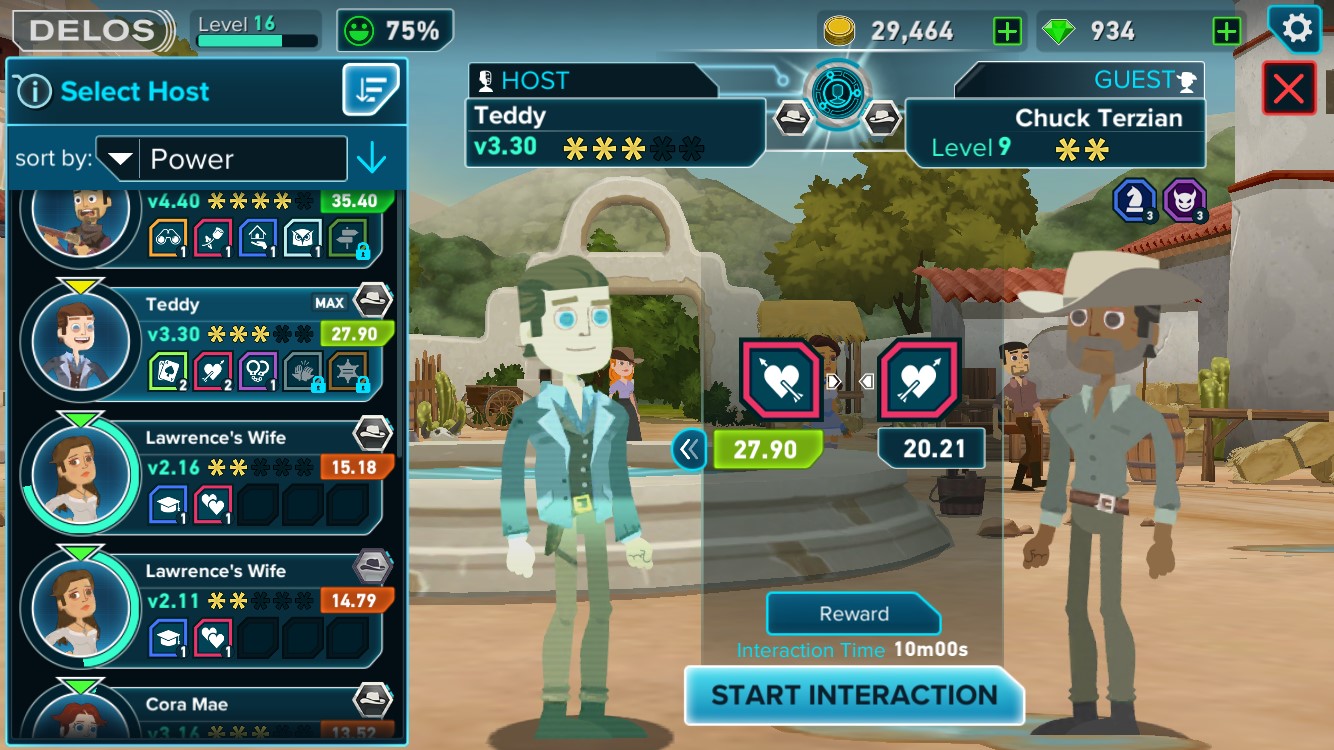 Teddy has found a Guest that desires to be a Debaucher.

It just so happens one of Teddy's roles will fulfill that desire! It also looks the Interaction between Teddy and this Guest has a good chance of being successful.
Let's look at what makes for a successful Interaction.
The total of your Host's Required Attributes should be higher than the selected Guest's.

If the total of these attributes is highlighted in green, then you have a great chance at making your Guest happy!

Matching the Guest's desire to the Host's role will increase your chances at a successful Interaction.
Upgraded Hosts will have higher attributes, so you'll want to use these with your more challenging Guests.

For more information on upgrading your Hosts, please see this article.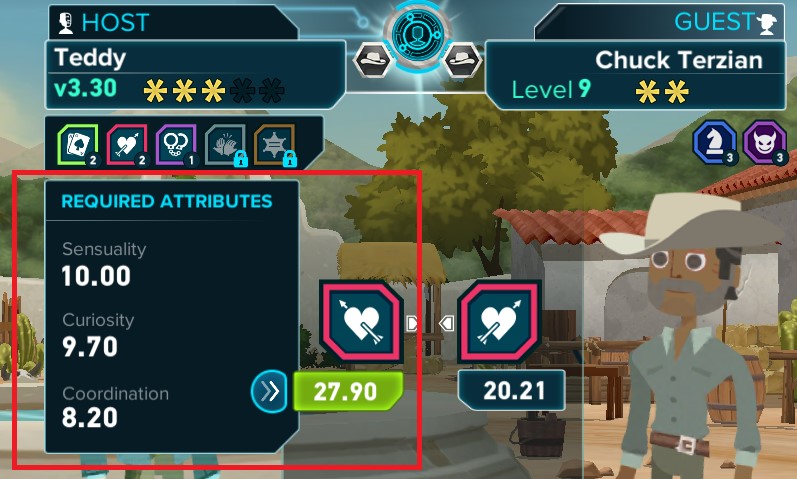 So what are the outcomes of an Interaction?
If an Interaction is successful, your Guest will leave satisfied and happy. If fully satisfied, they will depart the park via train. If they have other desires that they wish to have fulfilled, they will roam the park further in search of other Hosts. Your overall park happiness will increase with successful Interactions and happy Guests!
If an Interaction is not successful, then your Guest will be left unsatisfied. This may affect your park's overall happiness, so make sure you are putting your best Hosts to the task! Note that in cases of particularly unsuccessful Interactions, your Host may be killed, in which case they will need to be taken to the Body Shop for repairs.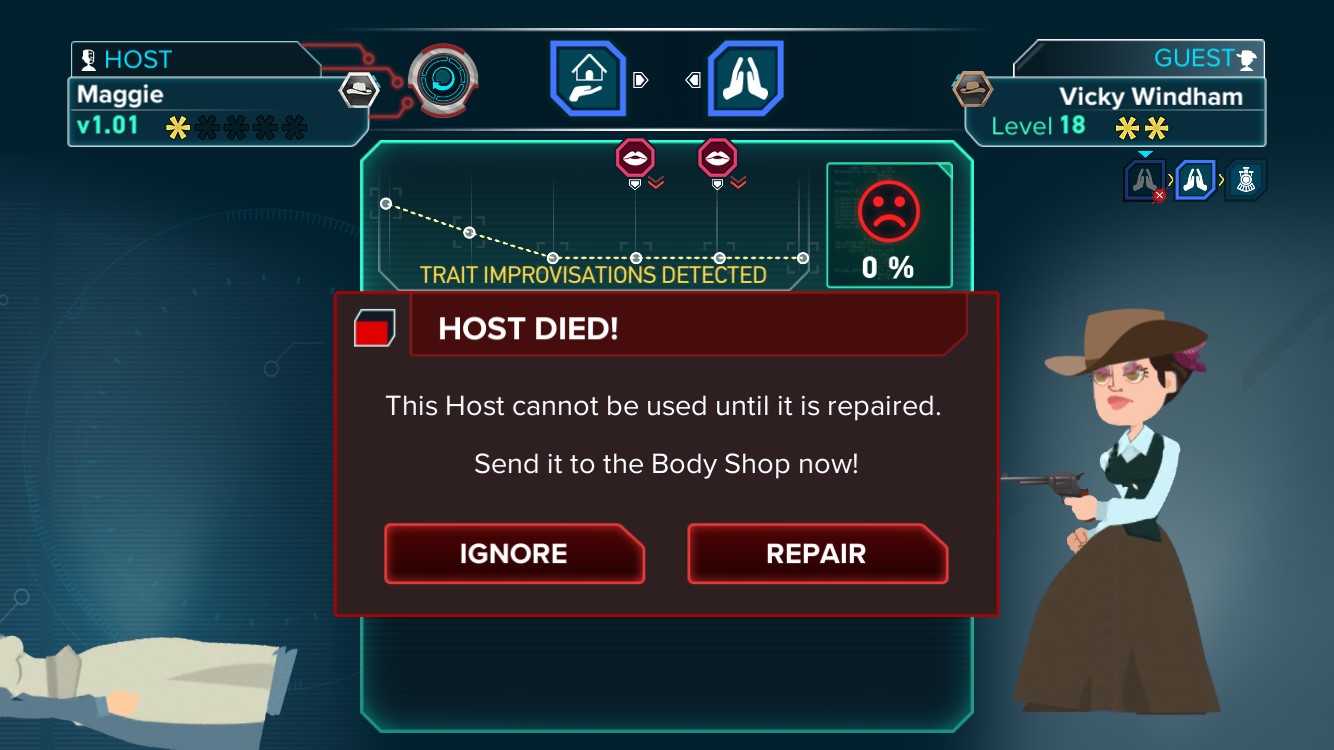 What are Trait Improvisations?
As you make your way into new regions of the park while using the DPTS, you'll find that tougher Guests may improvise during Interactions. It is best to pair them with a Host that's prepared for a greater challenge.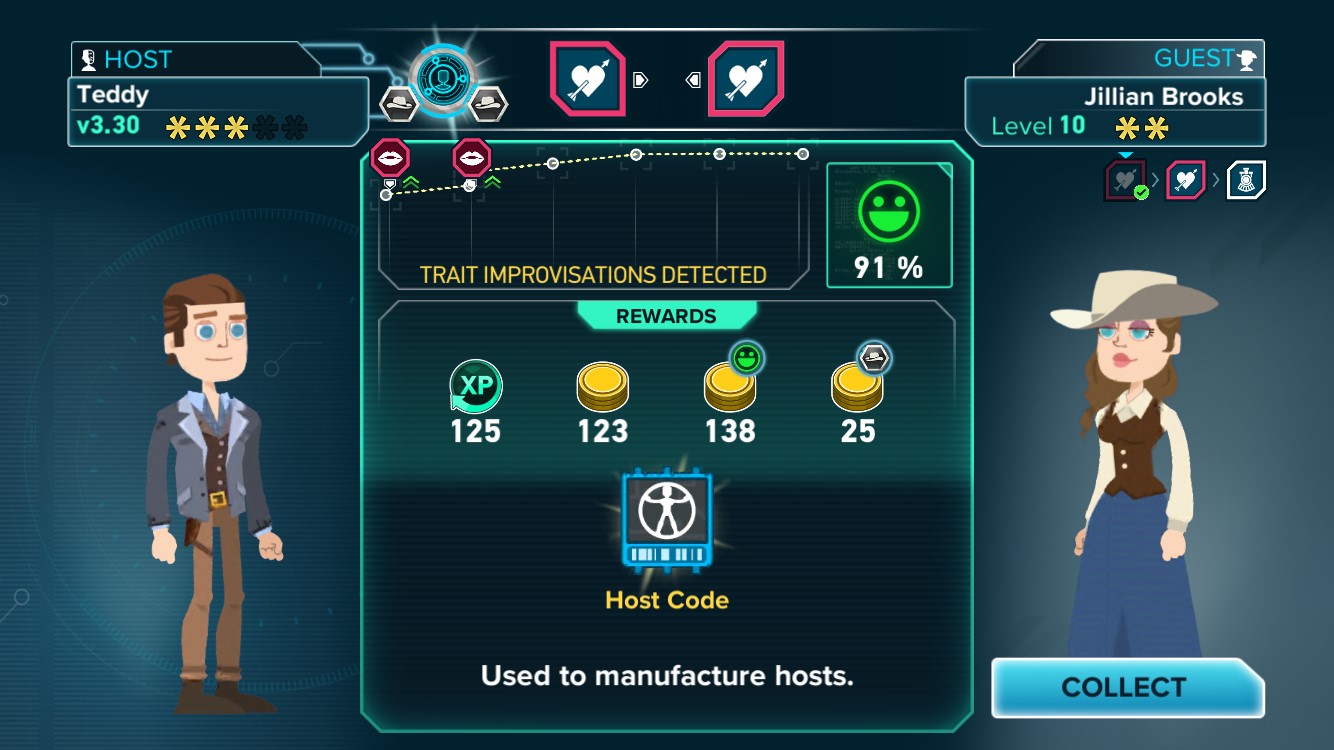 Think of Trait Improvisations as curveballs that are thrown out during the Interaction. These can have either a positive or negative effect on your Interaction. Take solace in knowing that you can still succeed in an Interaction, even if an improvisation goes awry!
For the best chances at adapting to any improvisation during an Interaction, pay special attention to the desire icons under the Guest's name. You'll want to pair them with a Host that has roles fitting into those desire types. Hosts whose roles have leveled up will have a better chance at adapting to any improvisations made during the Interaction.

For more information on roles, desires, and traits, please see this article.
What rewards will I receive for a completed Interaction?
To view all possible rewards for completing an Interaction, tap on the

button prior to starting your Interaction between your Guest and selected Host.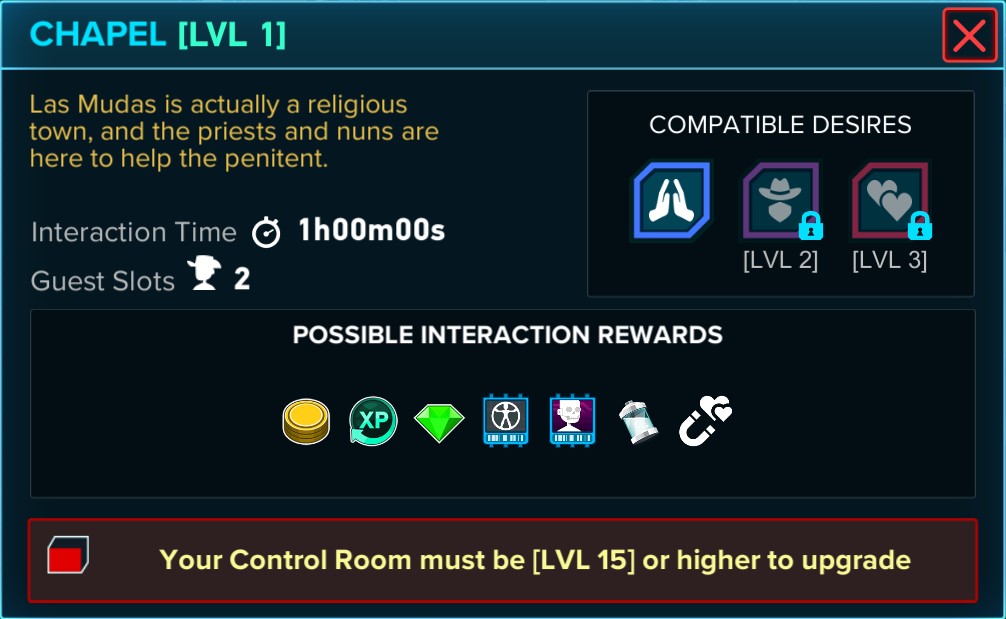 Note that even if an Interaction is unsuccessful, you will still receive rewards. For a greater chance at the best rewards, aim for the best possible outcome in your Interaction!
What can affect the rewards you receive?
Overall Happiness: If your Guest is incredibly satisfied at the end of an Interaction, you may receive a bonus reward!
Affinity Match: If your Host and Guest share the same affinity, you'll receive a bonus reward! You can verify an Affinity Match prior to starting an Interaction by checking the hat icons at the top of the screen between your Host and Guest.
Other Factors: Trait Improvisations and star rankings of both your Host and Guest can also have an effect on the rewards you may receive. This is a training simulation, so experiment with different Interactions!