Your Hosts can be upgraded in a variety of ways. By upgrading Hosts, you will have better chances at completing successful Interactions, especially with those Guests seeking a greater challenge! To upgrade your Hosts, you can install Reveries to them, construct Props for them to use in Interactions, or rebuild them using other Hosts or Prototypes.
Rebuilding
Construct the Rebuilds room in Delos to unlock the ability to rebuild Hosts. Your Control Room must be level 4 in order to unlock this room.
There are two main advantages to rebuilding your Hosts:
You can level up and rank up your favorite Hosts, thus making those Interactions with challenging Guests a little bit easier
You can free up space in your Host roster by selecting excess Hosts as part of the rebuild process
By rebuilding a Host, you can increase its level – or version – putting you closer towards ranking it up. Once you reach the maximum version for that rank, you can rank-up your Host using other Hosts of a similar rank.
Leveling Up
When you level up a Host, you are increasing both its overall version and the maximum amount of XP for that version. To level up a single target Host, you can apply up to 4 other Hosts or Prototypes from your Roster. If you want to put just 1 Host towards leveling up your target, that's just fine!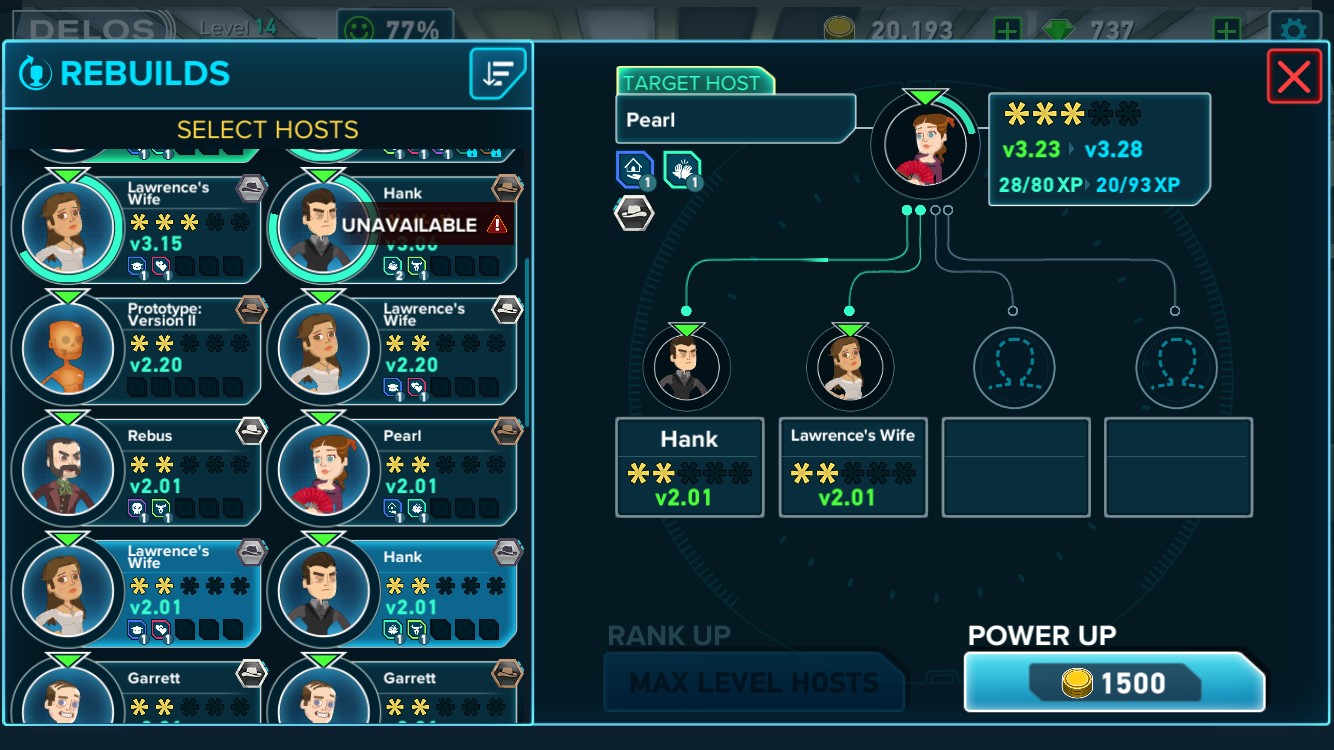 Using the above screenshot as an example, Pearl has been selected as the target Host to be leveled up. Two hosts from the roster – Hank and Garrett – are being applied towards leveling up Pearl. Hank and Garrett will both be sacrificed as part of this process, but that's not a bad thing! Take note of Pearl's current version (in green.) When this rebuild is complete and Hank and Garrett are used, Pearl's version number will increase from 3.23 to 3.28 – that's quite the jump!
Pearl's XP cap for her current version will also increase from 80 to 93. Overflow XP means that she will already have 20 XP applied towards her next version number. To reach this cap, Pearl can either be leveled up again using more Hosts, or used in Interactions around Westworld.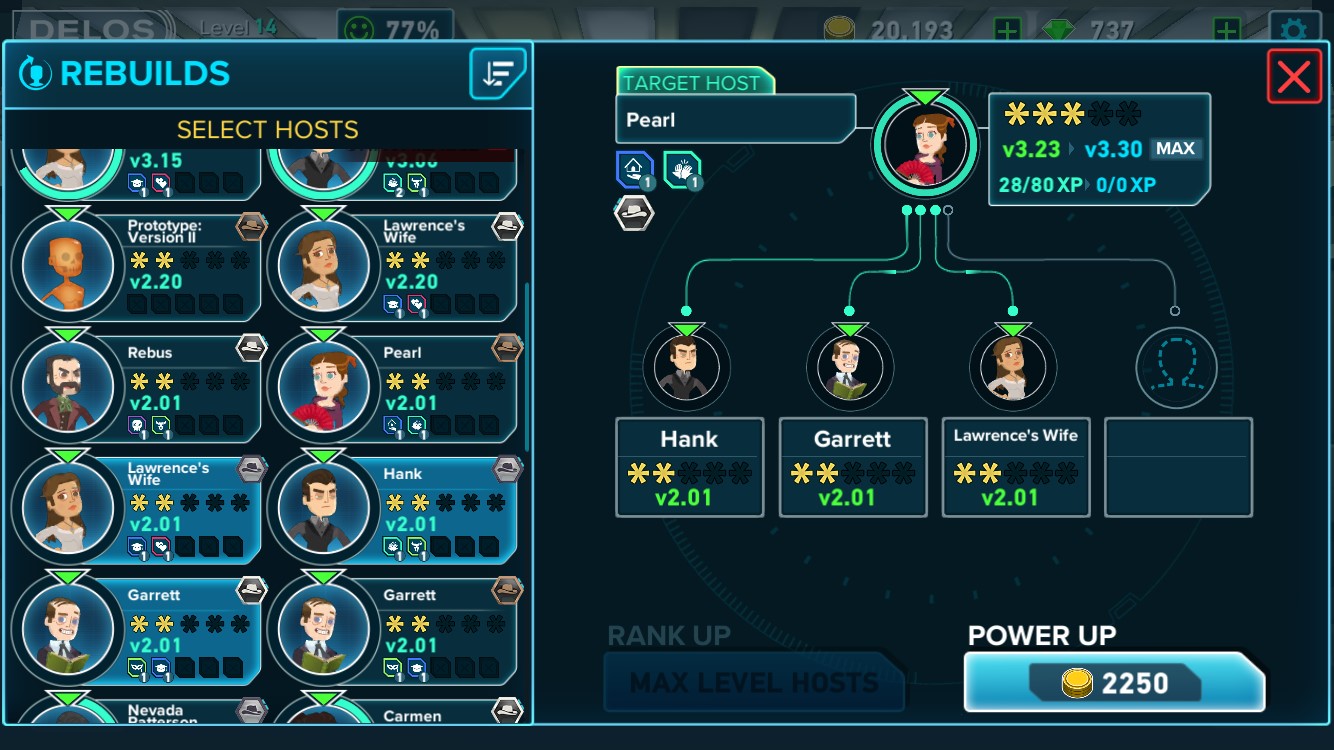 Look above! By applying a third host to the mix, Pearl can be leveled up to her max version, at which point her overall rank can be increased!
Note that leveling up a Host carries a cost in Coins. The cost amount will increase with each Host you add towards leveling up your target.
Leveling Up Roles
The Roles of your Hosts can be leveled up through the Rebuild process! To do this, you will need at least 1 duplicate of your target Host in your Roster.
For example, let's check in on Carmen.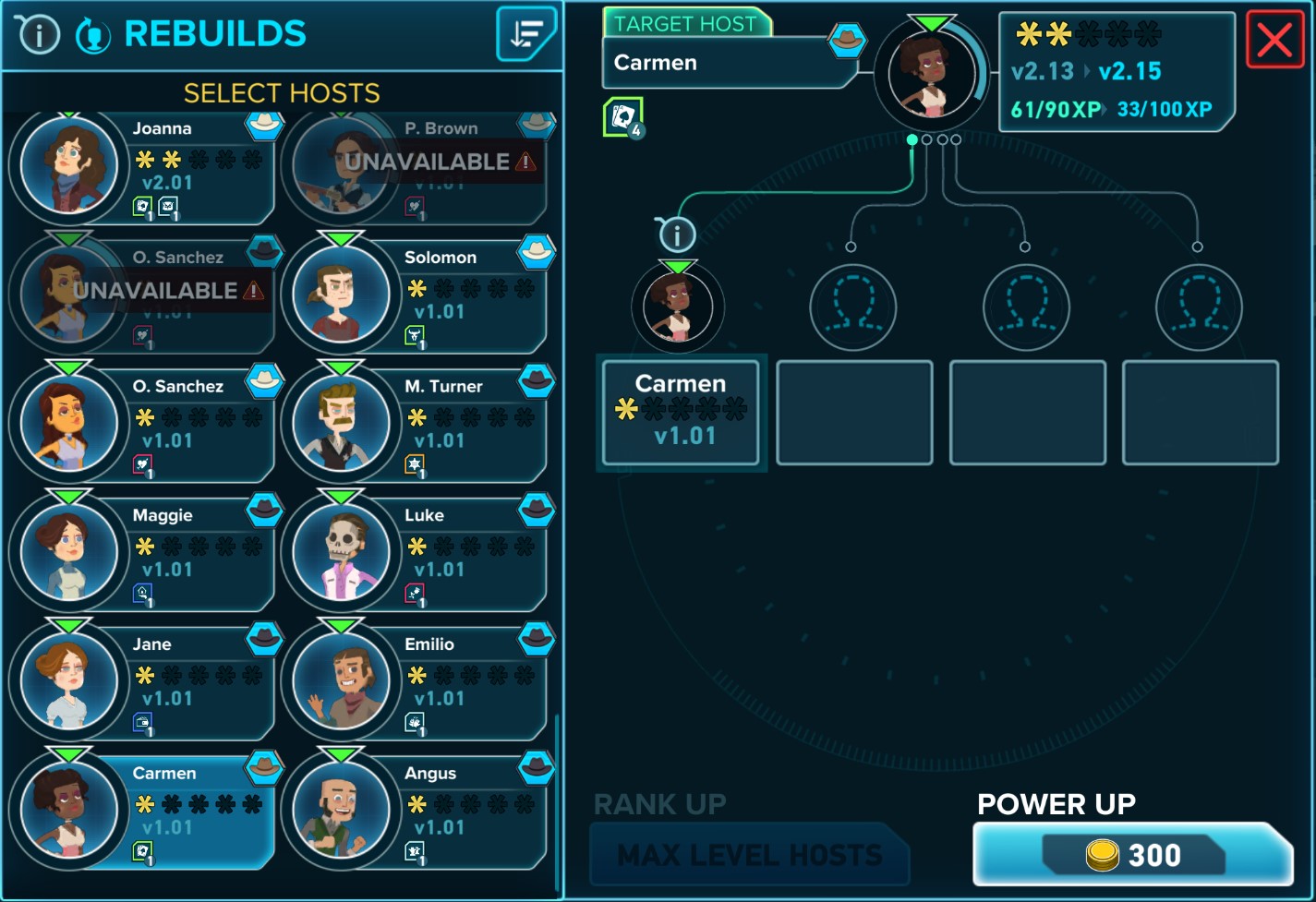 As you can see in the screenshot above, Carmen has the role of Gambler

 at level 4. In the Roster, you'll notice another Carmen, one of a lower level and rank. Notice how that duplicate Carmen has the same Role – Gambler, but at level 1.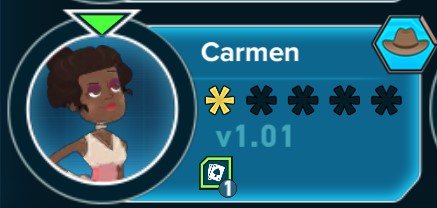 Let's sacrifice that duplicate Carmen in Rebuilds and see what happens! If you qualify for leveling up a Role, you'll notice the icon flashing for the Host that you are about to sacrifice for your target.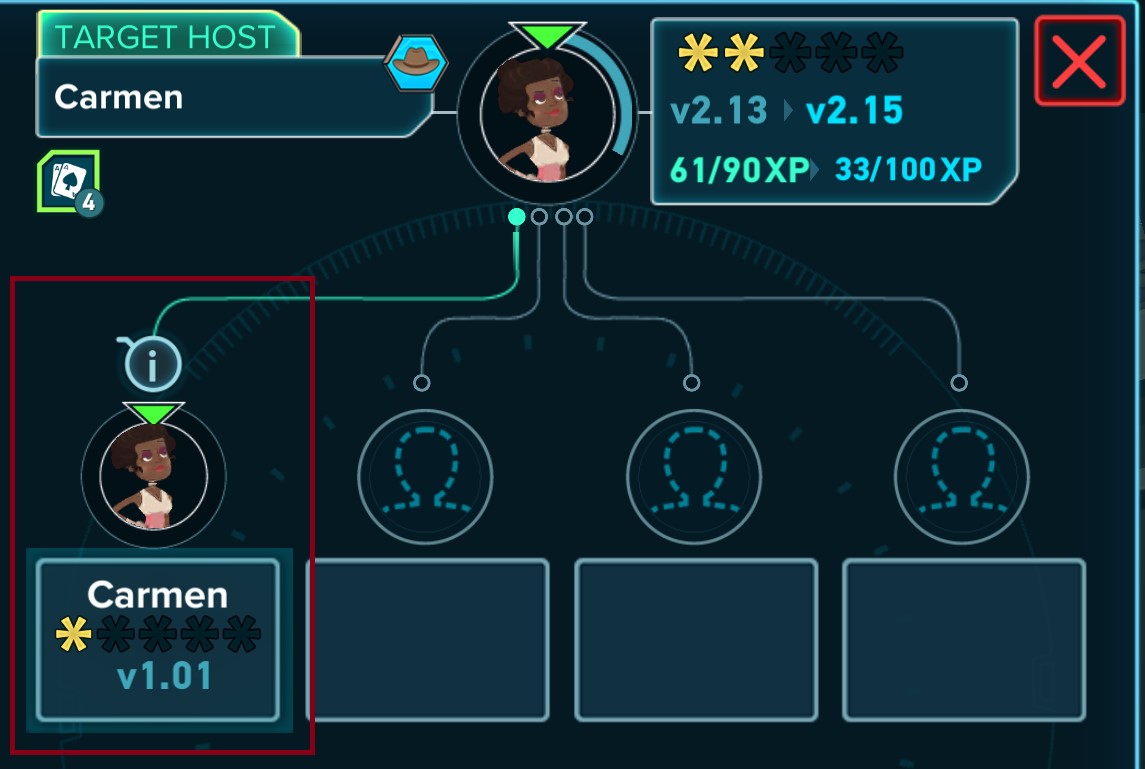 Additionally, a

 icon will appear. Tap that icon, and you'll see the following pop up:
Note that each sacrificed duplicate Host gives 1 level to the target Host's Role. Additionally, if your target Host has more than 1 Role, and you are applying several duplicates of that Host as part of the Rebuild process, then those upgrades will be distributed among your target Host's Roles at random. Finally, ensure that you have enough Coins to cover the cost of the upgrade!
Ranking Up
Once you have reached the maximum version for any Host – either by leveling up in Rebuilds or by completing successful Interactions around the park – that Host's rank can be increased with the help of other Hosts of the same rank.
As an example, let's have a look at our friend Teddy Flood.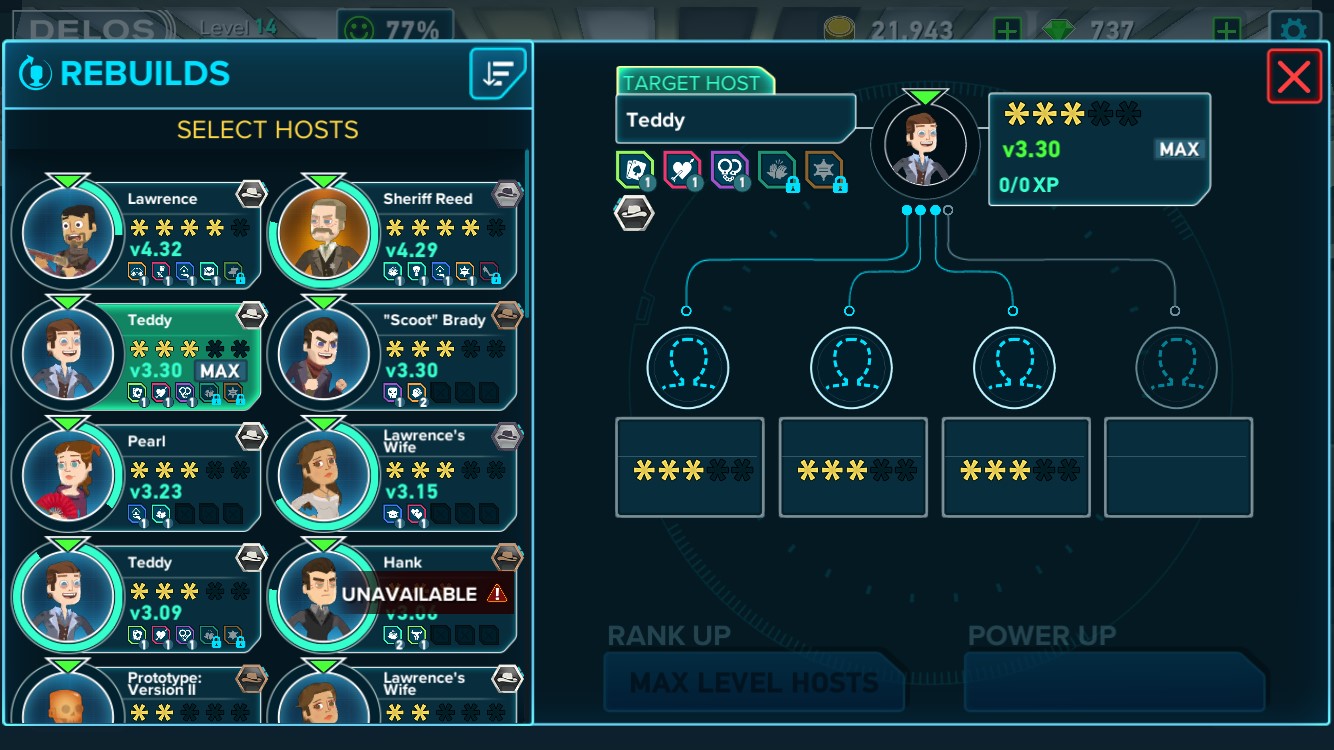 Teddy is at rank 3 and his maximum version. In order to reach rank 4, you will need to sacrifice three other rank 3 Hosts as part of the rebuilding process.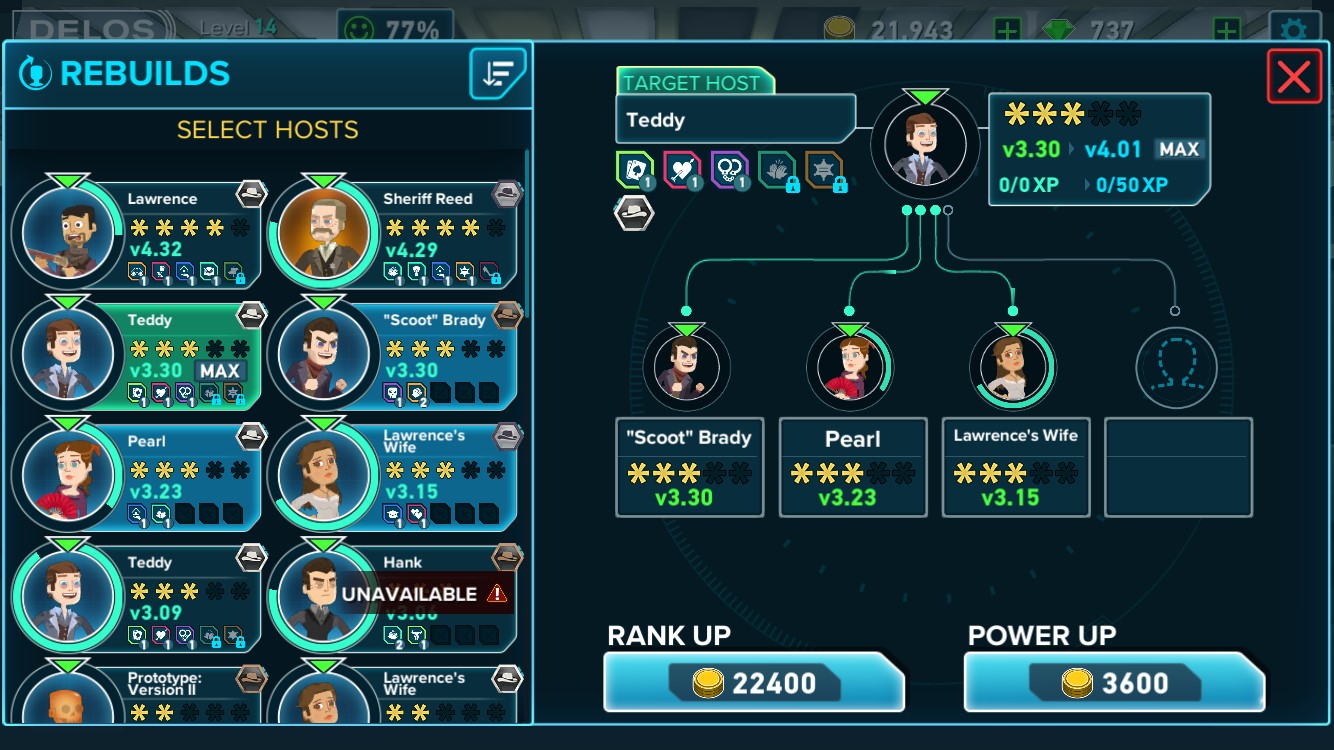 Once this process is complete, Teddy will have reached rank 4 and a new version number, thus opening up a 4th Role and allowing him to be used in tougher Interactions with Guests.
Note that ranking up a Host carries a cost in Coins, which is typically much higher compared to leveling up a Host.
If you manufactured Prototypes using Prototype Host Codes, then you can put these towards rebuilding a Host without sacrificing another Host in your Roster. There are 3 4 different types of Prototypes:
Skill: Levels up a target Host's Role. The Role in question is selected at random during the rebuilding process
XP: Grants XP equal to their level, allowing you to level up your Hosts quicker
Version: These come at Max level, allowing you to rank up a Host that is also Max level
Duplicate: These are considered a duplicate of which ever host you are merging it in. Using one of these codes increases a Host's Role Level
The fun part about the rebuilding process is experimenting! Gather more Host Codes either by completing Critical Analysis sessions with your Hosts, acquiring Social Points through the Co-Worker Center, or fulfilling Goals on your checklist. The possibilities are endless!
Props
Once you have unlocked Escalante, you can begin performing Technician Tests! Successful Technician Tests will reward Crafting Materials, which can be used to craft Props. Escalante will be available to travel to upon building Dr. Ford's Office, unlocked at Control Room level 9.
Props will boost your Host's attributes, giving you a higher chance at successful Interactions with tougher Guests. To build a Prop, select a Host from your Roster and tap the "Props" tab. Upon tapping the Prop you wish to build, you can review the materials needed to craft it along with the cost in 3D Ink.
3D Ink can be crafted in the Biomaterials room, starting at Control Room level 5
Resources needed to craft Props can be acquired by completing Technician Tests in Escalante, starting at Control Room level 9
Note that equipping a Prop carries a cost in Coins.
Reveries
Construct the Reveries room in Delos to manage and use Reveries on your Hosts. Your Control Room must be level 14 in order to unlock this room. 
By installing a Reverie on your Host, you can increase specific attributes for that Host. A single Host can have up to 6 Reveries installed, and up to 4 copies of a specific type of Reverie installed. To install a Reverie, simply tap the + icon and select the Reverie from your pool.
Installed Reveries can be upgraded, further boosting the attributes increased by them. To upgrade a Reverie, simply tap the "Upgrade" button. Note that upgrading Reveries carries a cost in Coins, with that cost increasing with each upgrade. Additionally, Reverie upgrades can fail. You will still be charged the upgrade fee even if the upgrade fails, though you will not lose the Reverie in question as a result.